A Popular Bone and Joint Supplement Has Surprising Heart Health Benefits
It may do more for heart health than joint pain.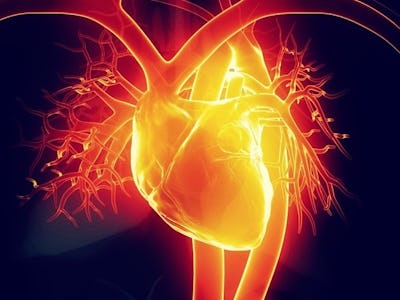 heart beats and brains
Glucosamine, a supplement that's popular among people with bone and joint issues, may actually do a lot more for a different part of the body. While the jury is still out on whether glucosamine is actually good for your knee problems or your arthritis pain, new research in The BMJ suggests it could play a significant role in reducing your risk of cardiovascular disease.
In a paper published on Tuesday, researchers showed that adults who took glucosamine to relieve their osteoarthritis pain had a 15 percent lower risk of cardiovascular disease events. The study, which followed 466,039 adults from the UK Biobank over a median of seven years, suggests that this supplement, which is prescription-only in the UK but widely available in the US, may support heart health in older adults.
Broken down a little further, the study demonstrated that "habitual" glucosamine is associated with the following cardiovascular health effects:
22 percent lower risk of cardiovascular disease-related death
18 percent lower risk of coronary heart disease
9 percent lower risk of stroke
These numbers represent the risk reduction after the researchers controlled for demographic and lifestyle factors like age, sex, race, smoker status, and drug use. For some individuals, there was an even greater effect.
For instance, smokers who take glucosamine saw a 37 percent lower risk of coronary heart disease over the study period. Obviously, smokers already have a higher risk of heart disease than non-smokers, so this doesn't mean you should light up to increase the effectiveness of your glucosamine. But what it could mean is that glucosamine's health effects stem from its anti-inflammatory properties, and since smokers have higher rates of inflammation, they could stand to benefit more.
The anti-inflammatory explanation is one possible reason glucosamine is supporting heart health, but it's not the only one, say the study's authors.
"In addition, a previous study found that glucosamine could mimic a low carbohydrate diet by decreasing glycolysis and increasing amino acid catabolism in mice," they write. "Other mechanisms might also be involved, and future investigations are needed to explore the functional roles of glucosamine in cardiovascular health."
Before now, it wasn't even clear whether glucosamine helped with joint pain, the main symptom people took it for. A compound found in cartilage, glucosamine is often believed to support bone and cartilage health. But this belief has long been just that — a belief.
"The effectiveness of glucosamine in patients with osteoarthritis and joint pain continues to be debated," write the study's authors, a team of researchers at Tulane University, Harvard University, and Harbin Medical University in China.
And indeed, in a systematic review of 25 different glucosamine trials by Cochrane Library, some randomized controlled trials showed that glucosamine helps osteoarthritis pain, while some showed that it doesn't. But as Inverse has previously reported, people often take supplements whether or not there's reliable evidence showing they're effective.
Even though people may be taking it for their joints and not their hearts, glucosamine use is already fairly common in the US. A 2008 CDC report showed that about 20 percent of US adults regularly took glucosamine. In fact, it was the second most popular non-vitamin, non-mineral supplement in the US, right behind omega-3 supplements.
It's not exactly clear whether glucosamine is actually helpful for joints, but this study suggests that plenty of Americans could already be supporting their heart health without even realizing it.
But science is a gradual process, as the study's authors point out, so of course, "Further clinical trials are needed to test this hypothesis."
Abstract:
Objective: To prospectively assess the association of habitual glucosamine use with risk of cardiovascular disease (CVD) events.
Design: Prospective cohort study.
Setting: UK Biobank.
Participants: 466,039 participants without CVD at baseline who completed a questionnaire on supplement use, which included glucosamine. These participants were enrolled from 2006 to 2010 and were followed up to 2016.
Main Outcome Measures: Incident CVD events, including CVD death, coronary heart disease, and stroke.
Results: During a median follow-up of seven years, there were 10 204 incident CVD events, 3,060 CVD deaths, 5,745 coronary heart disease events, and 3,263 stroke events. After adjustment for age, sex, body mass index, race, lifestyle factors, dietary intakes, drug use, and other supplement use, glucosamine use was associated with a significantly lower risk of total CVD events (hazard ratio 0.85, 95% confidence interval 0.80 to 0.90), CVD death (0.78, 0.70 to 0.87), coronary heart disease (0.82, 0.76 to 0.88), and stroke (0.91, 0.83 to 1.00).
Conclusion: Habitual use of glucosamine supplement to relieve osteoarthritis pain might also be related to lower risks of CVD events.