Michel'le Speaks Out Against Dr. Dre's Abuse Apology
"I just don't think it's sincere, treat us like we have names."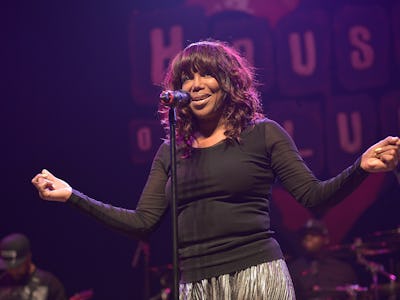 Charley Gallay/Getty Images for TV One
Straight Outta Compton, the new N.W.A. biopic, has received a fair deal of criticism for its rosy recoloring of history, namely the omission of Dr. Dre's abusive past. Dee Barnes, a victim of Dre's abuse, published an essay on Gawker about a record release party at which Dre "brutally attacked" her. In response, Dre publicly apologized in a statement to The New York Times. (Apple, Dre's high-profile business partner, backed him, as well.)
Twenty-five years ago I was a young man drinking too much and in over my head with no real structure in my life. However, none of this is an excuse for what I did. I've been married for 19 years and every day I'm working to be a better man for my family, seeking guidance along the way. I'm doing everything I can so I never resemble that man again. I apologize to the women I've hurt. I deeply regret what I did and know that it has forever impacted all of our lives.
The response was not disingenuous — Dre likely meant what he said — but it was certainly half-hearted. '90s R&B singer Michel'le — Dre's ex-girlfriend and another victim of abuse — believed the apology was too indirect, telling the BBC, "I didn't ask for a public apology and I think if he is going to apologise he should do it individually. To just group us like we are nothing and nobody — I just don't think it's sincere, treat us like we have names."
Throughout the interview, Michel'le provides horrifying details about her relationship with Dre — a very different story than Straight Outta Compton's. A particularly jarring memory speaks to how normal abuse was in their relationship: "One night I baked him chicken and I didn't make enough. He beat me because I didn't have another piece of chicken."
As traumatic as these events likely were, it is brave of Barnes and Michel'le to speak out, and necessary for progress. Still, even Barnes doesn't think scenes of domestic violence belonged in the movie.
That event isn't depicted in Straight Outta Compton, but I don't think it should have been, either. The truth is too ugly for a general audience. I didn't want to see a depiction of me getting beat up, just like I didn't want to see a depiction of Dre beating up Michel'le.
But without inclusion in the film, it's hard to find a silver lining. Dre is a billionaire whom many young men undoubtedly look up to and respect. Women like Barnes and Michel'le have to speak out to protect others if there's any hope for such behavior receiving greater public condemnation. As Michel'le puts it, "I don't want this new generation to think that its ok. I've never stopped talking about it. That's what's so funny about this coming up now."