'Straight Outta Compton': Big Beats and Easy Drama
The sprawling biopic is engaging, but eventually spirals into dramatic impotence.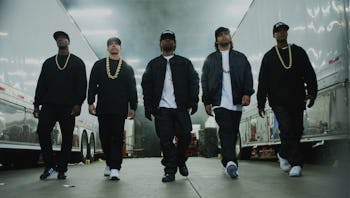 Straight Outta Compton did Marvel-movies numbers its opening weekend, grossing upwards of $56 million. And why not, considering the overload of savvy promotion? There were the endless press interviews with the film's subjects and cast, a successful meme campaign, Dr. Dre's Beats 1 show through the enormously successful new Apple Music service, and the surprise unveiling of his first album in fourteen years — supposedly inspired by the upcoming film.
Dre and Ice Cube's creative reunion to back the project (and on the Compton album) lent the film some additional charm. Seeing NWA members convening to advocate for it (interviewed by Kendrick Lamar, at that) contributed to a dominant viewpoint that this epic biopic would be a cultural landmark – a must-see, the definitive story.
In some sense, it is. It's great that the film — an in-depth, A-list film about landmark events in rap history — even got made in the first place. Unfortunately, though, the degree to which the film's subjects were involved in its production is a bit too palpable, and significantly weakens Compton's effect. The film is also directed by Friday director F. Gary Gray — obviously, a longtime associate of Cube's — and one gets the feeling he shied away from painting his real-life associates in too much of an unflattering light.
NWA's story was a bit thornier than this often-rote biopic allows it to be. For rap fans, first of all, Compton's omission of the more sordid details of the members' post-Efil4zaggin solo careers will be a huge distraction. There is significant smoothing-over of more morally ambiguous chapters in this history, and specifically, creative license taken with the characters of Cube, Dre and Eazy. Their abrupt settling into happy, largely committed relationships with women who temper their basest tendencies feels too convenient and vestigial to the film's main action. Even aside from the skimming-over of Eazy's womanizing, Dre's assault on journalist Dee Barnes is forgotten here, as is anything compromising. The closest we get is Eazy-E throwing a woman off of him during a blowjob, which is played for laughs.
For non-rap fans able to ignore the revisionism, the film's second half will still, doubtless, feel maudlin and anticlimactic. Detaching from the extra-textual concerns, there's an unabashed slump into stereotypical biopic plot gambits. Most glaring are the treatment of Eazy's downward spiral as his sickness worsens, and Dre has three-too-many monologues positioning him as the group's moral compass (see an overwrought scene of Dre breaking up one of Suge Knight's debaucherous Death Row office parties). By this late point in the film, the most ubiquitous bullet points of the group's career fly cartoonishly by, as if being checked off a list.
Compton's main strength, ironically, is Gray's expert sense of comic timing, which is evident in the way he paces cuts and the overall film. Additionally, Jason Mitchell's (Eazy-E) and O'Shea Jackson Jr.'s (Cube) sensitive performances carry the film, and many of their best moments are humorous bits. Eazy's reluctance to hop in the booth to record Cube's lyrics for "Boyz in the Hood" is a highlight, as well as — more darkly — Cube's violent feud with Priority Records and an antagonistic press interview. The scenarios are both laugh-out-loud (if uncomfortably) funny and evidence of how prickly Cube was at the time.
One wishes more complex choices like these had been made in the film's final act, specifically with Dre and Eazy's characters. If Dre is without fail the golden heart of the group and the biggest talent, Eazy-E is set up to be the martyr — a lonely, remorseful guy. The lack of post-NWA resentment between him and Dre in the film — Eazy's It's On (Dr. Dre) 187um Killa EP has evaporated — actually robs the film of conflict that would have bolstered its second half.
The first half has problems — mostly, pat Wikipedia-bullet-point plotting — but it is almost uniformly entertaining. Its weaknesses are overshadowed by the sharp acting and comedic moments. The NWA live performances and studio sessions are expertly handled (much more effective than the more cartoonish Snoop and 'Pac bits following the group's dissolution). There is the young Dre in a matte jacket as a struggling DJ, ex-weed slinger Eazy easing into his role as record exec and star, Yella as the guy who just wants to score, Ren as…well, poor Ren. The guy who wrote a huge portion of NWA's catalogue is a loyal and expressionless sideman here.
Despite this, Straight Outta Compton is as exhilarating as any good blockbuster, losing one's interest only for brief stretches (there are a few too many shadowy meetings to discuss of contracts with Paul Giamatti's unexpectedly sympathetic Jerry Heller). It's a must-see in theaters, even if only for the booming-subwoofer effect of the music in a multiplex auditorium. Compton delivers on a visceral, in-the-moment level, but one wishes it had taken a few more chances with flouting convention.