'Game of Thrones' Season 8 Casting Leak May Reveal the New Prince of Dorne
"The new Prince of Dorne pledges his allegiance."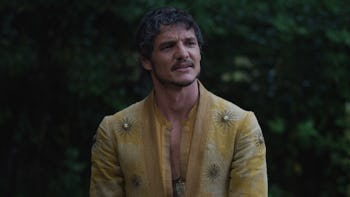 HBO
The new Prince of Dorne pledges his allegiance. This throwaway line in Game of Thrones Season 8, Episode 4 might have felt like the last we'd ever hear of the southern Westeros kingdom, but a look back at some previously reported casting news may reveal that HBO has much bigger plans for the "new prince" than we guessed. Here's what you need to know and what it means for Game of Thrones Season 8, Episodes 5 and 6.
Warning: Potentially huge Game of Thrones Season 8 spoilers ahead.
About six months ago, actor Toby Osmond accidentally revealed via his online resume that he'd been cast for an unconfirmed role in Game of Thrones Season 8. The news was reported by Winter Is Coming, but it didn't make much of a blip in the news.
Subscribe for free to Multiverse and get Game of Thrones coverage delivered to your inbox the night the episode airs.
But now, some fans are starting to connect the dots and realize that Osmond may have a pretty huge role to play in Game of Thrones Season 8. Winter Is Coming reports that "Osmond's character will wear golden armor or a golden outfit," which sounds a lot like the clothes Oberyn Martell wore back in Season 4. The report also notes that Osmond's Mediterranean heritage makes him a strong candidate for the role of "new Prince of Dorne."
Osmond has since scrubbed his online resume of any mention of Game of Thrones. It's not on his IMDb page, either, but he did respond coyly after someone asked him point blank on Twitter if he'd show up in Season 8.
The biggest clue, however, are a few photos shared by Osmond online (and reposted on Imgur) that appear to show Osmond hanging out off camera with none other than Peter Dinklage (Tyrion Lannister!). So not only is Osmond probably in Game of Thrones Season 8, but he's not just going to be hanging out down in Dorne. He was presumably on set with Dinklage, which means he probably shows up in King's Landing, likely with a whole army of Dornish soldiers to take down Cersei Lannister.
As for the name of this Prince of Dorne that Toby Osmond will likely play, we can't say for sure. The show hasn't done much to suggest who might be left of the Martell family (we kind of thought they were all dead at this point), though it's possible some other great house of Dorne could take over the position.
In the A Song of Ice and Fire books, Trystane Martell (who died in Season 6, Episode 1) has a brother named Quentyn. We haven't seen or even heard of him in Game of Thrones, but it's possible he could turn up right when he's needed most.
Game of Thrones airs Sundays at 9 p.m. Eastern on HBO.