Apple Car: Project Titan Patent Reveals New iPhone and Apple Watch Feature
Apple adds new capabilities to its automotive roadmap.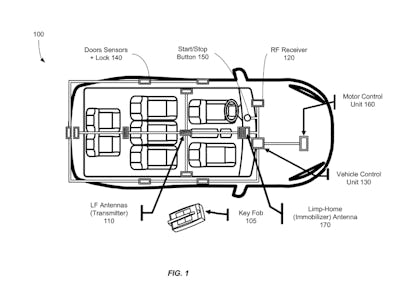 USPTO
Project Titan, Apple's secretive self-driving car venture, is expected to introduce a new breed of automobile by 2025. Patents and rumors have predicted a windshield with augmented reality capabilities, a system of smart headlights, and even a sunroof. As Apple pushes into this new industry, it's also looking for ways to integrate its existing tech into the experience.
Most recently, a new patent revealed that the tech giant is looking into ways to let drivers unlock, start, and pop the trunk using their iPhone or Apple Watch. On Wednesday, the United States Patent and Trademark Office granted the company a patent for the concept, which would imbue iPhones and Apple Watches with an encrypted key fob system. Here's a central aim of the patent filing.
"Some embodiments can provide methods and devices for allowing a mobile device (e.g., a key fob or a consumer electronic device, such as a mobile phone, watch, or other wearable device) to interact with a vehicle such that a location of the mobile device can be determined by the vehicle, thereby enabling certain functionality of the vehicle."
The primary idea is to eliminate the need for drivers to carry bulky key fobs and replace them with a piece of tech that's already in most people's pockets or wrists. About 95 percent of Americans own a smartphone, according to a 2018 Pew Research survey and a majority of those phones are iPhones. So using them as fobs would already be convenient for millions of people.
Beyond this built-in network effect, it's not a wildly unusual feature. There's also obviously Tesla, whose app already lets customers remotely move their cars using a smartphone app and the vehicle's "Summon" capability. GM also recently told CNN that's it's working on developing cars with baked-in smartphone support. Apple's patent still appears to be more advanced, however, both Tesla and GM's integrations still make use of fobs, and don't offer any encryption security features.
Traditional fobs make use of magnetic signals the cars can detect and beam back information to help you determine their location. This has a downside, however, in that it's possible for determined hackers to compromise this system and steal keyless vehicles. Apple says it has a plan to stop that from happening with its Project Titan car.
"The mobile device can store an encryption key (symmetric or asymmetric) that can decrypt the encrypted message so as to confirm an expected value of the message, thereby authenticating the vehicle."
Aside from eliminating superfluous hardware in the form of key fobs, Apple has a big opportunity to incorporate its smartphones and increasingly popular wearables to work in tandem with its vehicle. The company already offers CarPlay, which brings extended support for the iPhone's in-car user interface, using features like especially big buttons optimized for a car's interactive display. Leveraging its existing tech could make its Project Titan an extremely compelling product for Apple power users.