Clean Energy Growth Just Alarmingly Reversed Its Nearly 20-Year Trend
Clean energy adoption needs to be growing faster.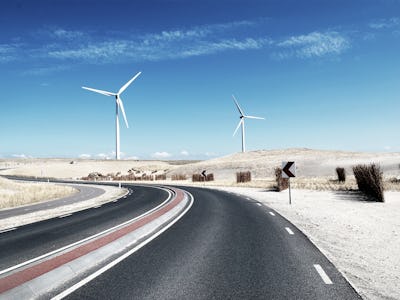 Unsplash / Andrea Boldizsar
Clean energy growth failed to increase year-over-year for the first time in nearly 20 years, a landmark report revealed this week. The finding puts the possibility of achieving the planet's climate change goals into jeopardy, as annual growth currently stands at just a fraction what is ultimately needed.
Globally, clean energy added 177 gigawatts of net capacity last year, about the same as the year before. That's the first time since 2001 that the figure has not increased when compared to the previous year, marking a sudden stop after 18 years of continuously-expanding growth. Those 177 gigawatts are only 60 percent of the ideal amount the globe needs to add to the grid every year if it wants to meet its climate targets.
The report, released Monday by the International Energy Agency, is a wake-up call for a world that may have otherwise grown complacent on renewables progress. Solar is dropping in price, clean energy is out-competing existing coal in the United States, and China is surging ahead with offshore wind, but these achievements lose their luster when placed in the bigger context: It's not enough.
The slowdown comes the same week as the United Nations warns that humanity is experiencing an ecological disaster, calling for "transformative change" to avoid complete catastrophe by 2050. This transformative change, the report argues, requires adjusting technological, ecological and social factors to avoid extinction for a projected one million species.
"These 2018 data are deeply worrying, but smart and determined policies can get renewable capacity additions back on an upward trend," Fatih Birol, the International Energy Agency's executive director, said in a statement.
This failure to add more capacity is having a knock-on effect onto carbon emissions. The report shows that, even though renewable energy generation overall grew by seven percent, carbon dioxide emissions related to energy jumped by 1.7 percent to reach 33 gigatonnes last year.
Part of the issue is a slowdown in solar additions. Photovoltaic panels doubled in annual additions over the space of two years, from 49 gigawatts added in 2015 to 97 gigawatts added in 2017. That growth flatlined last year, though, as solar again added 97 gigawatts to overall capacity. Growth also slowed in China last year from 53 gigawatts to 44 gigawatts, and it remained flat in the United States. Regions like the European Union, Middle East, Mexico and Africa helped plug the gap left by China.
""The world cannot afford to press 'pause' on the expansion of renewables."
China's growth stalled, the agency argued, because the country altered its solar incentives to reduce associated costs and achieve more sustainable growth. The country ranks as the world's biggest polluter, but it also spends three times as much as the United States on renewables. China aims to reach 20 percent non-fossil energy by 2030, and it argues it needs to keep growth sustainable in order to meet these goals.
This flat growth, however, has meant that solar cannot fill in the gaps where other forms of energy have failed to grow. Wind has remained largely flat over the past three years, adding 50 gigawatts last year, while hydro has seen a slight decline in growth from 36 gigawatts in 2016 to 20 gigawatts in 2018.
"The world cannot afford to press 'pause' on the expansion of renewables and governments need to act quickly to correct this situation and enable a faster flow of new projects," Birol said, adding that renewables no longer need big financial incentives to stay competitive with fossil fuels. He added that the agency is working to advise countries on areas like energy policy, carbon capture, and more efficient use of resources.
As the world fights to avoid temperatures rising two degrees above pre-industrial levels, countries may need all the support they can get.