Facebook Marketplace: Facebook's Genius Redesign Will Help Users Get Paid
A focus on privacy and e-commerce could be a winning formula.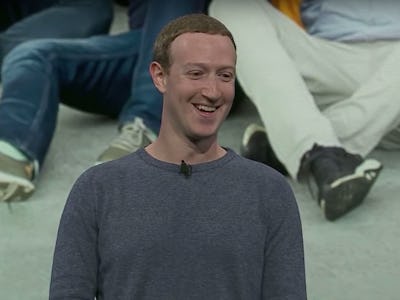 Facebook
Traditionally when it comes to Facebook, the users are the products and the advertisers are the customers. During the company's annual F8 developers conference on Tuesday, Facebook executives announced the two big changes which could finally help Facebook flip the script.
The first pertains to Facebook Marketplace, which will soon let sellers mail items anywhere in the continental United States and let buyers pay for purchase directly on Facebook. The other big change is coming to Instagram, which will soon enable dedicated shopping tags to let influencers, creators, and online business owners tag clothing, art, and other items on their posts to be sold straight from the photo-sharing app.
Neither of these improvements is groundbreaking, free shipping and product tagging has existed through e-commerce companies like Amazon and Etsy for years. But with these two additions, Facebook may have introduced the features it needs retain and gain back users who have left in droves. After two years of back-to-back privacy blunders, users have grown increasingly skeptical of the harmlessness of free products like Facebook. A 2018 Pew Research survey found that 26 percent out of the 4,594 people interviewed said they had deleted the app in the wake of the Cambridge Analytica scandal.
Facebook's handling of user data has aided the perception that it's more concerned about netting ad dollars than the privacy of its users. For that reason, a "refocus" on privacy was always going to be treated skeptically if unaccompanied by meaningful changes to the business model. That this new business model also seems to involve helping its users get paid for all their posting will make it all the more alluring.
Facebook's marketplace pivot might finally let users feel like they are not the product.
The Marketplace tab will now be more of a full-fledged e-commerce section as opposed to a classifieds page. Instead of only being able to advertise items for sale to people nearby, now sellers can reach Facebook users across the U.S. and get paid right then and there.
Buyers will be able to place orders to sellers anywhere in the country and the sellers will have 24 hours to accept the offer. From there, the seller will be able to pick which shipping service they want to offer, which will vary depending on the weight of the item and speed of delivery.
To top it off, sellers can advertise their items via live streams, which will let interested shoppers ask questions and see products in more detail. This could let someone host a yard sale entirely on Facebook to reach a nation-wide audience, as long as they are willing to ship what they advertise.
The biggest hurdle is getting users to trust Facebook with their payment info and shipping address. That's no small feat.
E-commerce changes are also coming to Instagram, which will soon allow users get more creative in how they advertise their clothing and other goods using the picture-centric app. Influencers, artists, and business owners will soon be able to sell the outfit their wearing on their Story or an illustration they made right on the platform. There's more of an opening here than meets the eye: For all its mightiness, Amazon is still pretty terrible for browsing. E-commerce has yet to offer the equivalent of window-shopping.
Before this announcement, Facebook said that only companies were able to utilize shopping tags. Now anyone with a sizable following and a collection of vintage clothing can use the app to profit. Instagram even said that it won't take a cut of each purchase but will require vendors to use a beta version of an in-app checkout, which includes a selling fee.
The ability to turn Instagram accounts into e-commerce hubs and marketplaces for re-sellers could empower influencers to strike up brand deals with companies or help more casual social media enthusiasts earn a side-income.
A release date for this capability has yet to be announced. The Instagram team announced it'll be testing the features with "a small group of creators next week, with plans to expand access over time."
While Facebook's privacy transgressions are far from forgotten, letting its users assert more control over their social media presence will make people feel less like products and more like owners of a personal brand. That could be the antidote the platform needed.