At Facebook F8, a Focus on "Human Connection," but Will There Be Any Privacy?
How private will your private Messenger messages be?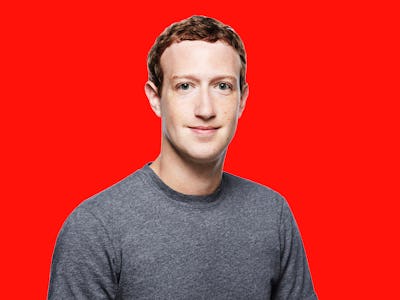 Facebook official media images
When Facebook executives took the stage at last year's F8 developers conference, the company's reputation as playing loose and fast with its users' privacy was at the top of the public's mind. After all, news about the Cambridge Analytica scandal was still fresh when CEO Mark Zuckerberg took the stage.
Despite all of this, Zuckerberg proceeded with what he had to assume would be the conference's most eye-catching announcement: A new dating feature. 
"Today we are announcing a new set of features, coming soon, around dating!" Zuckerberg said. "This is going to be for building real long-term relationships, not just hook-ups. It's going to be in the Facebook app but it's going to be totally optional. It's opt-in. I know a lot of you are going to have questions about this."
To its credit, Facebook did tease a new privacy related feature last year, the "clear history" feature, which was supposed to let you clear your Facebook browsing history like you would your internet cache. It was recently delayed, again, until some time in the fall (Facebook Dating, meanwhile, is live in a handful of countries, with the product launching in Mexico and Argentina last month, reports CNET.)
The rest of 2018's event focused largely on virtual reality, rolling out the Oculus Go and showing off an eerie new product that would re-create your childhood home in VR.
Along with Messenger, virtual reality is again expected to be the focus of F8 2019, which is Tuesday-Wednesday at the McEnery Convention Center in San Jose. This year's theme is "a conversation about technology and human connection."
Some 28 of the 80 breakout sessions listed on this year's F8 schedule are devoted entirely to either Messenger, VR, or AR. Facebook is expected to talk about privacy: On March 6, Zuckerberg published this blog post about his new vision for privacy-focused social networking. 
"I'll share a little bit more at F8 next week in terms of the product road map and what we expect to see on this," Zuckerberg told investment analysts last week during an earnings call.
While this latest future of Facebook may be about private communication, just how Facebook explains if your messages are truly private — as in non-monetizable— should be of huge interest to developers and users alike.
To jog your memory, we took a look at some of the biggest updates that Facebook has announced over the years at F8.
Facebook F8 2018
-Facebook Dating: Rolling out, but not in the US yet.
-Clear History: Facebook's key privacy offering from last year, which has been delayed multiple times.
-Instagram Video Chat
-Oculus Go
-Messenger Translation
-VR Memories/Photos: This product hasn't been released, but it did roll out a product last year to let you take 3D images with A.I. filling in the depth.
-Facebook Story integrations with Spotify
-Oculus TV
Facebook F8 2017
-The social media giant announced that its secretive "Building 8" research lab was developing technology for brain-powered smartphones. Regina Dugan, the head of Building 8 who came to Facebook from DARPA, led the presentation, but had announced by October 2017 that she was leaving Facebook.
-Camera effects platform: Facebook rolled out the Snap-like AR filters in 2018.
-AR Gaming: Facebook's AR-gaming initiative is still in development, but Endgaget got to play some of the games last fall.
-Productivity features for Workplace by Facebook
-Discover in Messenger
-Suggestions by Facebook M: Facebook's Alexa-like virtual assistant, has been around in various forms since 2015.
-Tons of Messenger Integrations including partnerships with Spotify, Apple Music, Giphy, Western Union, and the ability to scan QR codes. Spotify integration bot, Apple Music integration, Western Union
-Surround 360 Second Generation: Facebook's high-end camera tech for shooting high-resolution 3D video; it's currently in its third generation.
-Facebook's short-lived internet helicopter: Facebook released a kind of internet-beaming helicopter this year, but it was quickly deemed impractical and shelved after a few months.
Facebook F8 2016
-Account Kit: Facebook's F8s used to be drier, enterprise focused affairs. In 2016 they reworked the Account Kit, which made it easier to log in to different apps using Facebook.
-Save to Facebook: Basically what it sounds like, a book-marking function.
-Analytics for Apps: New analytics tools for marketers.
-Selfie Kit: Selfies, but in VR.
-Live Video API: 2016 was when Facebook first debuted Facebook Live, its live streaming tool kit.
Facebook isn't expected to get away with striking such a playful tone this year, even its reputation for putting growth at the expense of privacy is largely unchanged. But Facebook's developer schedule, plus the impending Oculus hardware launches, make it fair to wonder whether is ready to stop paying lip service to privacy, and begin building its tenets into the products that people use every day.