Las Vegas Ecosexuals Married the Earth in a Nevada Wedding Ceremony
"It's not like genitally having sex with the Earth."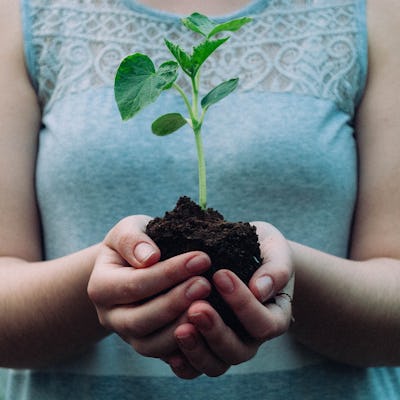 Unsplash / Nikola Jovanovic
Pida Plaza, dotted with tall palm trees rustling in the desert heat, usually serves as an outdoor gathering area for the students of the University of Nevada, Las Vegas. But on Monday, it served as a chapel for the betrothed ecosexuals who decided to marry the planet to celebrate Earth Day. In a "Marriage to the Earth" ceremony, roughly 25 people solemnly declared their vows to the Earth before a raised stage as cleansing herbs burned and drums thumped rhythmically.
"It was beautiful," Mayra Arzate, who took part in the ceremony and helped host the event as an officer in UNLV's Sustainability Council, tells Inverse. "I really felt that connection."
"This would be a way to get people to see the Earth as an equal partnership."
Unusual as it may sound, the ceremony is not without precedent.
Jennifer Reed, a sociology doctoral candidate at UNLV who hosted the mass wedding ceremony and whose research spans the origins and spread of the growing ecosexuality movement, tells Inverse that people have been marrying "non-human nature elements" for years — some even before the term ecosexuality was coined in the '90s by environmentalists seeking like-minded people on dating sites.
Now, the term ecosexuality is used broadly, in a humorous, tongue-in-cheek fashion, to include anyone who seeks a closer relationship with the Earth, people who want to declare a more formal alliance to the planet's needs, and yes, others who find nature erotic. The overarching goal is to help people establish a closer relationship with the planet so that they are more inclined to preserve it.
A major issue is that "we don't see the environment as a part of us — it's separate from us in some way," says Reed. Marriage ceremonies are "a way to get people to see the Earth as an equal partnership." A common concept among ecosexuals is transforming the metaphor of Earth as mother to Earth as lover.
"It's a play on words — it's kind of a way to get attention," says Reed.
It has proven adept at doing so. But beneath its theatrical exterior, ecosexuality appears to be an effective way to invite new allies into the sometimes daunting world of environmental activism.
Weddings to the Earth
Marriage ceremonies to nature can be traced back, in part, to a Venetian tradition of throwing a consecrated ring into the sea to symbolize the doge's control over it as he declared, "We wed thee, sea, as a sign of true and everlasting domination." Fortunately, the ecosexual interpretation takes a much more egalitarian view of relationships, in part because it grew out of performance art advocating for same-sex marriage.
In 2008, the renowned former porn performer Annie Sprinkle and UC Santa Cruz art professor Beth Stephens, Ph.D., helped popularize ecosexuality in the midst of their seven-year series of performance art weddings to protest laws banning them from getting married to each other. These events were theatrical and extravagant, often including spectacular, elaborate costumes, a theme and a central color.
The fourth year's color was green, and as environmental artists at USCS helped apply the idea of human marriage equality to our relationship to the planet, the marriage to the Earth ceremony took shape. Stephens and Sprinkle, who continued to host gatherings of ecosexuals, are credited with formalizing and growing the movement to welcome multiple subcultures under its umbrella.
Reed recalls one full moon-themed marriage ceremony called the "Purple Wedding to the Moon" that she attended in 2010 with over 400 other ecosexuals in Altadena, California. The controversial event — local authorities tried to have it banned — included artists, clowns, dancers, and spoken word poets, all of whom paid their tribute to nature while clad in extravagant, glittering shades of violet.
"We've got an entry to the queer community, the sex worker community, and others that oftentimes wouldn't feel comfortable sitting in a Sierra Club meeting or going to a board room somewhere," says Reed. "Performance art pieces get them involved in a way that's comfortable for them and inspires them, and that's a great thing."
Something for Everyone
Not everyone at Pida Plaza linked arms with the other newlyweds in front of the stage as Reed read the marriage vows (A sample vow: "Do you promise to honor, love, and breathe in the sky as long as you shall live?"). Some chose to remain behind tables and cheer. But a handful of those people changed their minds mid-ceremony and joined the chain, says Arzate; perhaps the ritual helped them "get out of their shell."
"Something told them, 'Just do this,'" she says. "You don't have to be a quote-unquote hippie to get involved." After the ceremony, participants put on braided bracelets in place of wedding rings and wrote pledges of action to their new partners.
"She can't breastfeed us forever."
It's understandable why some might have hesitated to join the chain of newlyweds by the stage. Despite its wide embrace, ecosexuality remains a very fringe movement that's often unfairly depicted in the broadest of strokes, framing it only in terms of eroticism. "There's performance art out there of people rolling around in the dirt. They can make it look kinda crazy," Reed admits. "It's not like genitally having sex with the Earth."
But the warmth of the desert sun on your face or the wind whipping through your hair, she says, can certainly be erotic for some. If so, all the better: Maybe you'll do a better job of protecting those things than you did Mother Earth.
"We protect our moms, but that's not working anymore," says Reed. "People feel like they can take, take, take. She can't breastfeed us forever."