Earth Day 2018: 3 Ways to Properly Recycle Your Electronics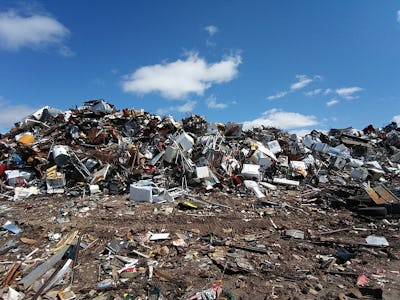 More than 100 million Americans recycle on a daily basis, thanks in part to municipal efforts that make curbside recycling convenient. The process of recycling electronics, however, isn't as straightforward, making it a major contributor to the country's rapidly overflowing landfills.
Industry experts estimate that consumers based in the U.S. alone throw away 400 million units of electronic equipment per year. And as of Earth Day 2018, only 25 states have passed laws regarding the disposal of electronics. However, failing to recycle these products can be harmful. If not disposed of properly, our daily devices could release toxins such as lead, mercury, and cadmium when incinerated.
It's not just the U.S. that is slow to fight electronic waste; it's become a global problem. A United Nations study reported that 44.7 million tons of electronic waste was discarded in 2016. Only 20 percent of it was recycled properly.
This Earth Day, tech companies are asking users to remember to recycle their old products whenever they upgrade. There are several ways to recycle electronics, which can divert thousands of pounds of waste from landfills and incinerators.
Donate for reuse.
If the product can be refurbished or reused, consider donating it to a charity that brings electronics to the underprivileged.
The World Computer Exchange has brought refurbished electronics to 5 million students across 3,350 schools in hopes to erase the digital "deserts" experienced in developing nations.
The Cristina Foundation not only refurbishes the products but offers technical training to recipients. This non-profit serves the elderly and immigrant communities who may lack access to computers or other technology.
American Cell Phone Drive accepts all brands of mobile phones and will refurbish, resell, or properly recycle in support of a variety of causes.
Find a reputable recycler.
Many local governments host collection days for disposing of electronics in their neighborhoods. TIA E-cycling Central provides a map to find where and when this happens in each state.
But for those who can't wait to recycle those electronics, Sustainable Electronics Recycling International can help you find certified recycling locations in your area.
Return it for possible rewards.
There are perks to giving back. Many retailers offer their own recycling products that come with rewards to the consumer.
Apple will offer up to $1,000 in gift cards or in-store credit through its GiveBack program. Similarly, Sprint's Buyback program offers up to $300 for turning in mobile phones, even if they were from a different carrier. Staples, Best Buy, Amazon and other retailers have their own recycling rewards programs, which can all be found on the EPA's website.
Even those who recycle cans and bottles on a daily basis continue to toss their electronic devices because the process of recycling them wasn't always as accessible. As more policymakers and manufacturers work to get the process streamlined, it's time to be more vigilant in making sure our electronics do no harm after we've discarded them.