Is Solar Power Worth It Where You Live? Try This Free Solar Cost Estimator.
This free tool will help you determine if Solar Power is right for your home.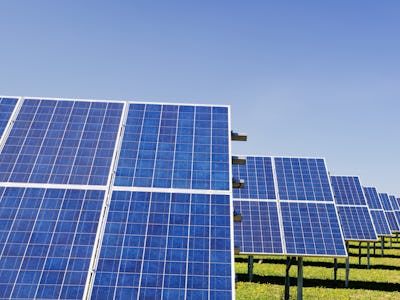 Zybnek Burvial/Unsplash
The argument for solar energy in private homes has always been pretty simple. It saves you money by reducing or eliminating your electric bill. It helps humanity by cutting down on fossil fuels that pollute our planet. And it dramatically increases the value of your home by offering the benefits listed above to any potential buyers. But at the end of the day, you still have to crunch the numbers and ask yourself, "Is solar power worth it where I live?" Luckily, Understand Solar is a fast, free service that has the answer.
Until recently, It was hard to justify the upfront expense of installing solar equipment. But, fortunately, that's not the case anymore. Over the past 10 years, the average cost of installing solar energy systems has dropped by a whopping 70 percent. Meanwhile tax incentives such as the Federal Solar Investment Tax Credit (ITC) usually knock off an additional 30 percent through the end of 2019. As a result, the question is no longer how much money can you save by going solar, but rather how much money do you stand to lose if you don't.
Of course, when it comes to solar energy, most consumers don't even know where to begin. After all, retrofitting your home for solar is a little more complicated than updating your bathroom or getting your driveway resurfaced. Plus, the number of Americans working in the solar industry has doubled since 2012. How do you know if a contractor actually has the experience necessary to do the job right?
One solution is to seek guidance from a third party solar energy advocate such as Understand Solar.
At Understand Solar, they don't sell or install solar equipment. Instead, they facilitate the growth of the solar energy industry by creating educated consumers, and then putting them in contact with reliable solar installers in their area.
Understand Solar has a vast library of educational resources that will teach you everything you need to know about solar energy systems in order to make an informed decision. Topics covered include:
How solar energy systems work
How you save money with net metering
How much solar panels cost, and how long they last
Extensive reviews of all the latest solar tech
Overviews of available financing and leasing options
Tutorials on legal and financial incentives offered by the government, including the Solar Investment Tax Credit, as well as Renewable Portfolio Standards and Solar Renewable Energy Certificates
Once you're fully informed, the next step is to get a personalized assessment of all your options. And Understand Solar makes this incredibly easy. All you have to do is fill out their online form, providing a few details about your home and location, and Understand Solar will provide a free assessment over the phone, answering any questions you may have.
After that, if you are ready to take the plunge, Understand Solar will put you in touch with top-rated installers in your area and help you arrange in-home estimates so you have as many options to choose from as possible.
So if you're ready to find out how much money you're losing by not going solar, don't wait any longer. With UnderstandSolar.com, the whole process is fast and easy. So fill out the form and get your free estimate today.