The Best Smart Wearables You Can Find on Amazon
Wear your tech to collect bio data on yourself, sure. But here's how to look good doing it.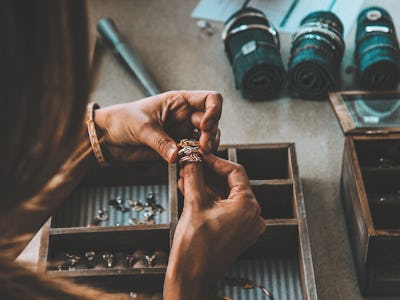 Unsplash / Kyle Frederick
Big dorky watch that shows everyone at the bar the text you just got from your mother on a screen that lights up in case someone mighta missed it? Ulp. Not cool! Slick piece of jewelry that silently alerts you that your mom texted so you can glance at your phone to find out what's for dinner when no one's looking? Much better.
Here are some wearables that track your steps, send phone notifications quietly to your body, and look good doing it. Extra points for being so subtle no one will know you are wearing your nerdiness in plain view.
You don't have to take an hour out of your day to go for a long walk to meet your fitness goals. You can do it in shorter increments throughout the day. But how will you know if you have hit your goals or are just making excuses? Data. Most people wear a clunky fitness tracker on a wrist for this. Is that not your bling? Try this Motiv ring instead. Always on, it tracks sleep, steps, and heart rate. It's waterproof so you won't kill it by showering.
Carrying a smart phone, in your hand, when walking somewhere you don't feel safe makes you feel safe but it's actually putting a target on you. There is a healthy market for stolen phones. People have been shot for them. Put that expensive smart phone in a pocket where no one can see it and wear this necklace instead. Push the button on it and it will send a text to five people you have told it to alert if you need need an assist.
Tiny, subtle, and with a wide range of wearing options, none of which look like you are wearing a fitness tracker. This is one of my favorite wearables and it looks like it's on the chopping block at Misfit, in favor of newer, more expensive watches. Get one while you can because once you have it on, you'll forget you do. Until it alerts you to a text or you consult your phone about your step goals. A six-month watch battery keeps it running so you don't have to constantly charge it.
Pretty watch, right? And that's a well-known, enviable watch brand, too. This, right here? My kind of bling. This one is sooo much smarter than most watches that look this good. It buzzes if you get a text or call. (Or whatever you tell it you want notifications for.) It tracks your steps, let's you customize the notifications, and lots more. It's slick, in short. The classy evolution of the smart watch.
This is a piece of boho statement jewelry with a secret. It's a smart wearable that never needs charging. (It has a watch battery that lasts six months.) Unlike most fitness trackers, it does more than count steps. It measures calories burned, sleep patterns, reproductive health, menstrual cycle and stress. You can wear it as a watch or pendant.