How Choosing New Crimes Changed 'BuzzFeed Unsolved'
Hosts Ryan Bergara and Shane Madej open up about their latest season, and how success for the series has expanded their production.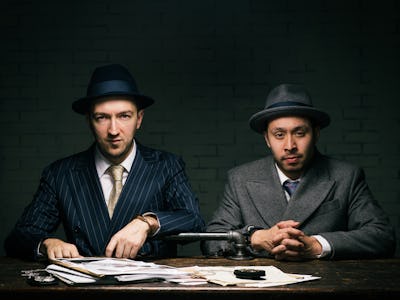 BuzzFeed
Ten seasons in, the hosts of BuzzFeed's popular web series BuzzFeed Unsolved: True Crime are still the same: They're still "goofy lads" who explain grisly murders and real-world ghost stories to the amusement of millions everywhere. But how the "Ghoul Boys" pick their cases has changed a bit since they first started back in 2016.
"There's more heads in the room," series creator and co-host Ryan Bergara tells Inverse ahead of the season premiere. "It doesn't take place in my head. It takes place with a room full of people going, 'Oh, that case is very interesting,' or 'No, we can't do that.' We have a team of people that help create the list we're gonna cover."
But co-host Shane Madej, the skeptic to Bergara's eager believer, is kept out of the process entirely. "I like to keep him in the dark so that he can react in a fresh way," Bergara says.
"A couple cases we have [this season] are just plain nutty," Madej tells Inverse. "They're getting real weird."
On March 22, BuzzFeed Unsolved returned for its landmark tenth season. The series is divided into two shows, Supernatural and True Crime, and it was the latter show that brought back Madej and Bergara to the channel's 2.2. million subscribers on YouTube in March.
In the premiere, the hosts combed over the recent case of the "Westfield Watcher." In 2014, Derek and Maria Broaddus and their three kids moved into their dream home in an affluent New Jersey neighborhood, only to be "greeted" by a stalker who sent disturbing letters in their mailbox. Their story went viral in a November 2018 story published by New York Magazine.
The rest of the season, the hosts tease, is just as chilling. "Obviously we've covered a lot by now," Madej says, "but in Ryan's effort to find more interesting cases, it's yielded some very bizarre stories."
The Westfield Watcher is about as recent as the hosts are willing to explore. And there's a good, if also practical reason why.
"Usually when there's a case in development, there's still details coming out. It makes sense to wait a little bit," Bergara says. "There may be more details to the case that would make it better to cover. But also there's a possibility that these cases may get solved. It's odd to cover a case and a year later, the episode is nullified by the fact the case is solved."
There are quite a few cases the hosts (and even their production crew) are eager to explore, but many of them are "teetering on the brink" of being solved.
There's also the matter of a true crime case being too fresh to find any humor, a key ingredient to the show's popularity and accessibility for new viewers. "Because we do have a tone that is humorous, with recent stuff we don't want to make light of anything that is affecting someone in a huge way," Madej says.
"We take an everyman approach," Bergara adds. "Like an armchair investigator." This, the two believe, is what allows them to tell jokes even when discussing the most gruesome murder cases. "We do a good job at balancing tone."
While making jokes can be unseemly when also talking about murder in literally the same breath, the hosts are careful to not cross any distasteful lines. Bergara reiterates points he made to Inverse last year: "These are tragic and very sad occurrences, but we're able to find the humor in some of the lighter places in the cases. A lot of these cases have very gross negligence of the authorities, or the criminal themselves are just a very stupid person."
Seriously, you won't believe how much humor there can be found in murder. Says Bergara, "We do our best to balance tone between dark and goofy that occurs almost every time."
In a change from previous years, the Ghoul Boys won't leave their studio to see locations of some of these murders, which they've done a handful of times for True Crime. "This season we pretty much strap ourselves to that desk," says Bergara, adding that there's not a lot to find when the murder scenes have been renovated into, say, a Wetzel's Pretzels. (His words.) "A lot of the places are very different than they were back in the day and offer no insight whatsoever. Supernatural will have all the traveling for the ghoul hunting."
Buoyed by the meteoric popularity of true crime, with podcasts, books, and documentary shows that offer audiences their choice of grisly crime to learn about, BuzzFeed Unsolved serves as a refreshing, yet still bingeable alternative.
"You can almost pick up on an agenda or opinion when you're watching any kind of true crime," says Madej. "The Adnan Syed one is trying to make a point. We approach knowing our complete lack of acumen for crime solving. We're not expecting to point the finger at anyone. We're just collecting the details and presenting them."
"Every year we up the production value," says Bergara, "but I enjoy that we keep it the same [show] with little tweaks."
Rest assured: If a case is ever solved, it won't ever be because of these two lads filming for BuzzFeed. "We're not field agents when it comes to our crime solving. In fact, obviously, we haven't solved anything," says Madej. "We just stay in Ghoul HQ and do our work from there."
Adds Madej, "I'm not going to believe they've cracked the Ripper case until the Queen herself announces it."
New episodes of BuzzFeed Unsolved premiere Fridays on YouTube.