Solar Energy: American Cities Doubled Their Capacity Over the Past 5 Years
The solar market is shining bright.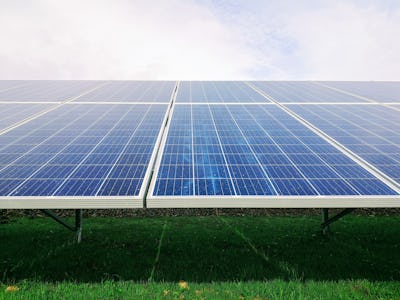 Unsplash / Mariana Proença
Solar is soaring in size, according to a report published this week. A series of annual studies from 2013 to 2018 show that, out of the 57 American cities surveyed, 79 percent increased their solar capacity greater than twofold. The research bodes well for the industry, as climate change piles on the pressure to switch to clean alternatives.
"Solar power shines as an American success story," reads the start of the "Shining Cities 2019" report, published by the research group Environment Texas Research & Policy Center.
The report found that the United States' solar capacity has rapidly expanded in size. The country now has over 60 gigawatts of installed capacity, enough to power one in 11 homes. Cities have played a big role in this expansion, as the amount installed in just 20 cities outpaces the total amount that was in the United States in 2010. The amount of cities with more than 50 watts per capita installed has jumped from eight in 2013 to 23 in 2018.
The Environment Texas report shows that Los Angeles has the most capacity of any city, with 419.9 megawatts installed. It also has the potential to install a staggering 5.4 gigawatts on small buildings around the city, which would transform it into a production powerhouse. The report also showed that every region of the country has a leading solar city:
Burlington takes the top spot in the northeast, with 7.9 megawatts that equates to 187 watts per person. It ranks fourth overall by per capita-rating and 37th based on raw installation numbers.
Honolulu is number one in the Pacific region, with 226.5 megawatts total that equates to 646 watts per capita. Its per capita ranking is the highest in the country by far, nearly triple that of second-placed San Diego, and it ranks fourth in terms of total installation rankings.
Las Vegas claims the top spot in the Mountain region, with 104 megawatts that results in 162 watts per capita. It's the fifth-highest per capita rank in the country, and ninth-highest overall.
San Antonio comes out first in the South Central region, with 186.9 megawatts that results in 123.6 watts per capita. That's the 12th-highest per capita rating in the country, and seventh-highest in terms of total installation numbers.
Washington, D.C. is number one in the South Atlantic region, with 63.6 megawatts that equates to 91.7 watts per person. It ranks 15th in terms of per-capita solar production and 12th based on general figures.
It's a glowing endorsement for solar, as recent reports have shown the industry booming in size in the United States. The Solar Foundation's job census in February showed that the industry has jumped from supporting 93,000 jobs in 2010 to 242,000 in 2018, a 159 percent boost. This has been coupled with a drop in costs, as residential installation prices have dropped from $6.65 per watt in 2010 to $2.89 in 2018.
These cost reductions have resulted in some areas experiencing a coal crossover. A report from the San Francisco-based think tank Energy Innovation showed that in 2018 the cost of building and maintaining wind and solar was cheaper than maintaining 74 percent of the country's coal capacity. Around 94 gigawatts of coal capacity is substantially at risk from wind and solar, meaning a switch could undercut costs by 25 percent or more.
This week's report recommends greater action from local government to continue this momentum:
Research shows that solar energy policies —more than the availability of sunshine —dictate which states are succeeding in adopting solar energy and which are not.74 The most effective policies facilitate the wide-scale adoption of small-scale solar energy systems on homes, businesses, and other institutions, while also speeding up the deployment of utility-scale solar energy projects. Policy-makers at every level of government — federal, state and local — have an important role to play in making sure solar energy continues to thrive.
As 2018 was the fourth-hottest year on record, it's perhaps a change that may be needed now more than ever.