'Killing Eve' Season 2 Hulu Release Date and How to Watch It Online Now
It's officially 'Killing Eve' season, folks.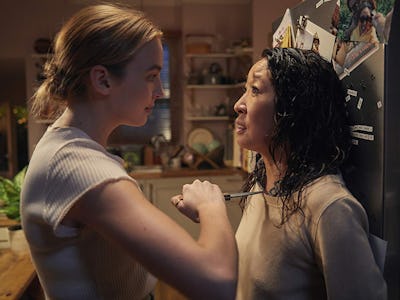 BBC America.
It's officially Killing Eve season, folks, and you know what that means: The cat-and-mouse game that MI5 agent Eve Polastri (played by Sandra Oh) and highly-skilled assassin Villanelle (Jodie Comer) began playing in Season 1 has resumed. Season 2 finds Eve eagerly attempting to track Villanelle down following multiple harrowing encounters in Season 1, while Villanelle not only evades capture but attempts to hunt down her boss after numerous betrayals. With Eve focused on finding Villanelle and attempting to understand what makes her tick (and Villanelle wanting no parts of that despite finding herself very much attracted to Eve), Season 2 is only going to get more complicated, which means you don't want to miss a second of what goes down.
In light of this, it's easy to understand why fans might be chomping at the bit to get their hands on the latest episodes. Fear not, because even if you're a cord-cutter and aren't able to tune in to either BBC America or AMC every week at 8/7c to watch the latest episode of Killing Eve Season 2, you still have some prime streaming options.
Here's everything you need to know about watching Killing Eve Season 2's release date on Hulu and how to watch it on your streaming platform of choice.
Is Killing Eve Season 2 on Hulu Yet?
Not yet! For now, you can catch up on Season 1, which is available to binge on Hulu.
Although no official Season 2 Hulu release date has been announced, we may already know when it will drop onto the streaming service. Season 1 ended up on May 27, 2018 and landed on Hulu on December 1, 2018. Given that IMDb notes Season 2 will end this year on May 26, we're willing to be that it will follow the same pattern, arriving on Hulu the first week of December — just in time to get an extra boost for awards season.
Is Killing Eve Season 2 Available to Stream on Netflix or Anywhere Else?
Unfortunately, Killing Eve Season 1 isn't available to stream for free on any other streaming platforms like Netflix. It also stands to reason that Season 2 will not be available on Netflix either. If it works for you, you can watch it through Amazon Prime Video, but you'll have to pay to for individual episodes or the entire season.
Can I at Least Watch the Killing Eve Season 2 Premiere Somewhere?
You're in luck because right now, you can watch the Season 2 premiere for free (you don't even need a cable password!) on BBC.com and AMC.com.
Or, if it works for you, you can head over to Amazon Prime Video and purchase individual episodes of Season 2 ($2.99 for HD, $1.99 for SD) as they're released week by week.
Killing Eve currently airs every Sunday on BBC America and AMC at 8/7c.