Real 'Fortnite' Funded by Anonymous Millionaire Can't Possibly Go Wrong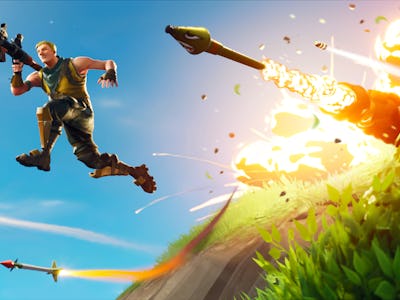 Epic Games
Just a few days after Prince Harry publicly condemned Fortnite, an anonymous millionaire began hatching plans to create the event in real-life. What a weird week for Fortnite.
A UK-based "luxury shopping marketplace" called Hush Hush recently receive a request from an anonymous person with a fabulous amount of wealth who wants help designing a real-life battle royale competition. The £45,000 is for six weeks of design and planning, and anyone can apply on the official listing. Unlike Fortnite, however, this battle royale won't involve any killing or actual violence. Instead, players will utilize Airsoft guns and touch-sensitive body armor for three days of competition. The winner will receive a £100,000 jackpot.
The current vision is a three-day event with 12 hours of competition each day. Everyone would camp overnight with all gear provided.
"Battle royale games have become incredibly popular over the last few years ago and our customer is a huge fan who wants to make the game a reality in the safest way possible," Hush Hush founder Aaron Harpin writes on the listing. "If the championship is a success this year, it's something he wants to make an annual event moving forward, which is very exciting!"
All they need is "a talented gamemaker to help … make the event as realistic as possible." Anyone can apply online
We have so many questions.
Who is this presumably eccentric millionaire that wants to buy an entire island just to host this reality competition? Do they play Fortnite or are they just looking to capitalize on the trend as a money-making investment? Will they participate themselves? (We hope so!) Is this person a James Bond villain? Is it Elon Musk?
Will this become some kind of reality television show where every contestant has a camera and microphone hooked up to their gear? Will there be cameras strewn throughout the island itself?
Are they hoping that the real-life battle royale competition will resemble Fortnite in terms of specific locations? Do all the players get the same gear? Will they be able to discover new gear on the island?
It seems like this competition is still in the very early stages of development, but we cannot wait to see how this unfolds into the exact plot of some lame horror movie — or a real-life Hunger Games.