Dolphin Genital Discovery Suggests Their Sex Lives Are Remarkably Human
"I actually think that we need to assume that sex feels good for most animals."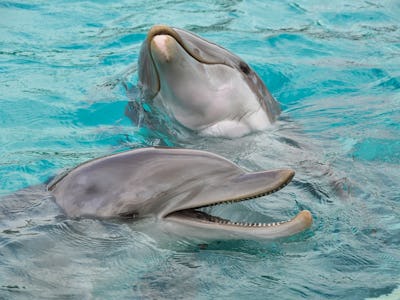 Max Pixel
Over the past 10 years, there's been a revolution in how we think about sex. In the past, the predominant theory was that humans were the only animals who have sex for pleasure, and that others merely copulated to reproduce. That mindset is now changing and scientists presenting their work on Saturday at the 2019 Experimental Biology meeting add an important, stimulating female perspective. It's time, they say, to talk abut the dolphin clitoris.
Like bonobos and humans, dolphins are known to have sex year-round, including periods when they can't conceive. This, say the Mount Holyoke College scientists, suggests that sex is pleasurable for dolphins and facilitates social bonding. If the goal of sex isn't reproduction, there must be some other reason they're doing it.
The researchers, Patricia Brennan, Ph.D., and Dara Orbach, Ph.D., were collaborating on a study on dolphin vaginas when they decided the dolphin's unusually located clitoris merited some explanation. The position of the dolphin clitoris, Brennan explains to Inverse, is not like a human's. In a human, the clitoris is at the top of the vulva and is covered by a clitoral hood, which means that it's not always stimulated directly. But in a dolphin, the clitoris is right at the entrance of the vaginal opening, meaning that it comes into direct contact with the penis during sex.
Its location and large size suggests that it can be easily stimulated during sex, and in turn, cause pleasure.
They learned this by studying 11 dolphins that died naturally and were collected under a permit authorized by the US National Marine Fisheries Service. To evaluate the genital tissues in detail, they dissected them, fixed them in wax, and used 3D scans to create digital models.
Their analysis revealed that the dolphin clitoris looks a lot like a human's in shape and structure, despite its location being different. In both humans and dolphins, the erectile tissue of the clitoris (it becomes engorged with blood when stimulated, not unlike a penis) is larger than the clitoral hood, and the thin, folded nature of the skin suggests it can expand and become sensitive. This, says Brennan, is "good evidence that females have well-developed nerve terminals in their clitoris, which may be involved in a pleasurable sexual experience."
"Since the clitoris seems to have an erectile component and a sensory component, just like humans, it is reasonable to assume that it may function in a similar way," she adds.
Though Brennan says the results are preliminary, they represent a step toward understanding the social world of dolphins and, perhaps, a shift in scientific priorities. The female reproductive system has been woefully understudied, and Brennan and Orbach would like to change that.
Sex For Fun
Bonobos, humans, and dolphins are often lumped together as highly social species who appear to have sex for fun. This study adds to the idea that female dolphins get something out of the arrangement as well. As social interactions are vital to the survival of each of these species, it may be that pleasurable sex is integral to survival.
Perhaps, Brennan says, the experience of enjoyable sex likely extends beyond this social group of three.
"I actually think that we need to assume that sex feels good for most animals since it is so evolutionarily important," she explains. Instead of trying to prove that sex is pleasurable, she reasons, scientists should focus on demonstrating that it's not. Animals could be enjoying themselves in a way that we can't decipher since signs of pleasure and orgasms are different across different species.
To fill in those gaps in knowledge, her team will continue to examine the morphology of vertebrate females of other species.
"Who knows?" Brennan says. "Maybe we will learn something about humans along the way."
Abstract:
Dolphins copulate year-round despite short estrus periods. Copulation may be pleasurable for female dolphins through clitoral stimulation, as they have large and well-developed clitorises. Although female mammals possess a clitoris homologous to the penis, the general structure and functional morphology has only been described in a few species. We explore the gross morphology and microanatomy of the common bottlenose dolphin (Tursiops truncatus) clitoris at different developmental stages to assess the potential for erectile tissue to expand during copulation. Excised clitorises were collected opportunistically from eleven post-mortem dolphins including adults, subadults, and calves. Specimens were subdivided for use in: 1) gross morphology dissections, 2) micro-computed tomography scans, or 3) paraffin histology and staining (modified Mason's trichrome and hematoxylin and eosin). Erectile tissue was present consistently along the clitoral body that extended from the hood tip to the base. The erectile tissue had a forked shape and similar relative volumes in both the calf and subadult specimens. The erectile tissue was surrounded by a thick layer of smooth muscle along the lateral sides of the crurae, clitoral body, and hood, but not cranially or caudally. Muscle tissue was surrounded by connective tissue. There was a hard bulb with a capsule around it at the root of the clitoris proper that was comprised of dense connective tissue. It appeared to be structural rather than erectile or secretory in nature. Our data provide a baseline for comparisons with other species known to have sex for pleasure (e.g., humans). The consistent shape and relative volumes of erectile tissues between calves and subadults suggest there are few developmental changes except for allometric size increases. Future research that compares the density of connective tissue in cetaceans and other marine and terrestrial mammals may be able to yield insights if the unexpectedly dense tissue of the dolphin clitoris is an adaptation driven by natural selection or sexual selection.