Amazon Gaming: Release Date, Price, Titles for the Company's Cloud Service
Amazon might step into the cloud gaming ring, too.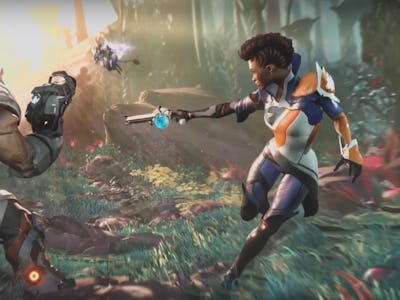 Amazon Games Studio
Amazon could jump on the cloud gaming bandwagon to compete with the likes of Google, Microsoft, and Sony. The company already owns Twitch, the most popular video game live-streaming site in the world. Now, it's reportedly working on a way to allow its customers to play their favorite games without having to download massive files or buy CDs.
Amazon will step into a crowded field that already includes the unreleased Google's Stadia, Microsoft's xCloud, and Sony's PlayStation Now. It makes sense, then, that Amazon is looking to launch a product relatively soon, according to two anonymous sources familiar with the matter in an The Information report.
Amazon already has two "Cloud Games" engineer positions available in Seattle and California both of which were first spotted by The Verge. The publication found two other job openings for "Lead Cross Platform Game Engineer" and an A.I. engineer to help create a "never before seen kind of game." The listings have since been removed, but they served as mounting evidence that the company wants the millions of users watching video games on Twitch to be playing as well.
Amazon Cloud Gaming: Launch Date
Amazon could launch its cloud gaming service as early as 2020, according to The Information. There hasn't been much else to go on besides that broad timeline. The fact that Amazon took down its aforementioned job listings could suggest they've filled the jobs and have begun the development process.
Amazon Cloud Gaming: Price
There hasn't been any information as to how much Amazon's cloud gaming platform could cost. But it'll likely be priced competitively with currently available streaming services, like PlayStation Now.
Sony's service charges a subscription fee of $19.99 per month. That puts the going rate for a game streaming service in the $20 per month range. Amazon has a slew of hardware products, so it's possible that it could offer its very own game controller, much like Stadia.
Amazon might also let Prime subscribers have a taste of its cloud gaming platform when it comes out. Currently, the company offers Prime users free perks on Twitch and even a free year of Nintendo's online service. It could also bundle a free game or free month of cloud gaming with its Prime service.
Amazon Cloud Gaming: How It Could Work
On paper, it is very hard to think of another company better suited to provide a cloud gaming service than Amazon. Amazon Web Services (AWS) is a suite of cloud-computing services that accounts for one-third of the world's cloud computing infrastructure, according to a report by Synergy Research Group.
AWS hosts sites like Reddit, Foursquare, and Pinterest along with countless others. The company could simply repurpose some of its many servers to run video games and wirelessly transmit their visual output to gamers around the world.
The main obstacle to this plan is delay, or lag. All cloud gaming platforms require speedy internet connections to run smoothly. Stadia, for example, recommends at least 20 to 25 megabits per second to play games at 1080p at 60fps. Without that kind of internet connection, even single-player games slow to a crawl, resulting in a poor gaming experience.
But again, Amazon is uniquely equipped to circumvent the problem of lag, as it has more cloud servers than any other company. That means it will likely have an advantage over its competitors when it comes to finding the nearest server to each potential player, thereby reducing delay as much as possible.
Amazon Cloud Gaming: Has Amazon Done Anything Like This Before?
The tech giant has dabbled in cloud gaming in the past. Its game division, Amazon Game Studios, has released a handful of titles recently and even demoed a hybrid cloud game, titled The Unmaking, in 2014.
The game featured a ballista that players used to fire flaming mortars into massive armies. The ballista part of the game ran locally on an Amazon Fire tablet, while the enemy units were all generated by remote servers. It was an impressive demo for the time, but the company hasn't showed off its cloud gaming capability since.
AGS primarily sells its cloud services to other game studios to host online games. It also released its first game for the Xbox One and PlayStation 4 earlier this year titled, The Grand Tour Game, an episodic racing game that mostly flew under the radar.
Amazon Cloud Gaming: What Games Will Available?
It's still early to get any kind of sense of whether Amazon's planned streaming service would include a complete roster of games. But AGS is already known to be in the process of cooking up two different titles that would make sense to debut with a would-be cloud gaming service.
New World is an open world, survival, massive-multiplayer online game. Chris Wray from Wccftech got the chance to play a demo of the game and said it was the "first MMO [he's] actually been excited for since the launch of Elder Scrolls Online. But the company has yet to announce a release date.
Crucible is a third-person shooter battle royal game with each round consisting of 12 players. Amazon first announced the game in 2016 and brought on game-designer Louis Castle from Westwood Studios to help build the project in 2017. AGS has been tight-lipped about any further progress, but it's possible that the company is waiting for a big announcement of its streaming service to talk about updates.
All cloud gaming services rely on having an impressive roster of games to lure gamers into paying for a monthly subscription. Amazon might introduce some of its own games with the service, but it will also almost certainly have to partner with third-party developers, like Stadia is doing, if they want to compete against the likes of xCloud and PS Now. Would-be game streamers are about to have a lot more options. The right roster will be essential for standing out.