Amazon Prime-Nintendo Switch: How to Set It Up, and Reactions to the Deal
Nintendo is the first console maker Amazon has ever partnered with.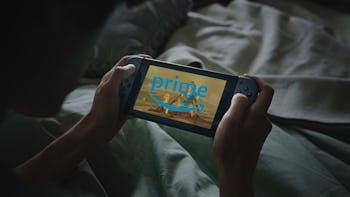 Danny Paez
Amazon announced this week it has partnered with Nintendo to further sweeten its Prime subscription.
As of Thursday, gamers who have activated their Twitch Prime subscription perk can alsoclaim a year of free Nintendo Switch Online access. It's comes to a $20 value that includes access to multiplayer modes across all games that support online play and a roster of classic NES games.
The bonus was announced by Twitch Prime marketing manager Ray Galicia in this blog post and it breaks new grounds for Amazon, which has long been eyeing the gaming and game-streaming markets, at least since it bought Twitch for $970 million in 2014. Nintendo is the first console maker Amazon has ever partnered with and the deal is solid for Switch-owners who also have a Prime subscription. And this could be a match made in heaven.
More than half of the households in the United States are expected to have a Prime membership this year, according to industry research company eMarket. Meanwhile, the Switch is one of the fastest-growing consoles with more than 32 million units across the globe as of December 2018. This partnership might just have what it takes to make the Switch the most popular console in the world, if it persuades more of the 95 million Amazon Prime members in the U.S. to buy a Switch, the $300, portable game console.
Currently, Sony's PlayStation 4 consoles are the most popular gaming systems in the world, but the Switch is a close second, according to a report by Strategy Analytics. Offering Switch Online could compel fans of the iconic titles, like Super Smash Bros. Ultimate, to pick up the console to game online for free — a feature that costs roughly $60 per year on PlayStation and Xbox.
How Do I Claim It?
You need to have an existing Amazon Prime membership, which costs $119 annually or $12.99 per month. Then you have to link your Twitch account to your Prime account, which can be done by clicking the dropdown menu at the top right of Twitch's site and clicking the "Settings" option. Twitch Prime will get you a series of perks on the video game streaming site, access to free PC games, and can be used to claim your free Switch Online subscription.
Once you're Twitch Prime account is active, visit the Nintendo Twitch page to claim the initial three free months of Switch Online. After 60 days, you can go back to the page and get another nine months.
What If I Already Paid for Nintendo Switch Online?
Switch users that are already paying for the online service can also take advantage of this perk. By cancelling your reoccurring payment plan with Nintendo you can use the bonus to renew your subscription when it runs out by visiting the same Twitch page.
But there's a catch.
What If I Have a Family Plan?
Any users that pay for a Switch Online family plan are not eligible to claim this perk. That plan gives up to eight Nintendo Account holders access to online services. The Twitch promotion only works for single accounts.
"Nintendo Switch Online family membership holders are not eligible for this offer," stated the fine print on the Twitch page.
Reactions
The reactions across Reddit and Twitter were generally positive. Some subscribers that don't regularly watch Twitch videos or own a PC were elated that they could finally use the Prime perk:
"Wow that is actually amazing," wrote Redditor u/Tim-Sanchez. "I've never had anything useful from Twitch Prime before but this is great. Now I just need to remember to get the extra 9 months in 60 days."
Other were a bit confused about wether or not they could still use this perk if they had already paid for Switch Online. But other users informed them they could use it to renew their subscription when it expires.
"Tfw you just signed up for Nintendo online last night and you have a prime membership," wrote cartman2468. "Nevermind! Thanks everyone!"
Switch Online family plan subscribers, on the other hand, were disappointed that they weren't eligible for the bonus. Andrew Steele, a software engineer living in Albuquerque, New Mexico was especially let down because he saw Nintendo as a family-oriented video game company.