Twitch Just Got Way Better with Help from Amazon
The next evolution of the live streaming site is finally here.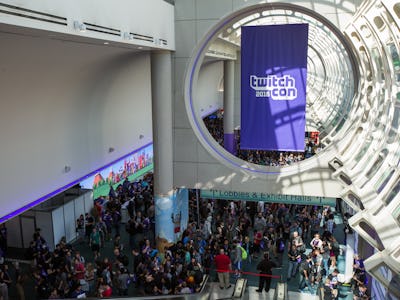 Twitch
Ever since Twitch was first acquired by Amazon back in 2014 for $970 million, it was inevitable that the two websites would begin to merge features and build off of each other. We've seen that growth begin to take place with more stable servers and premium features present on Twitch, but this past weekend at TwitchCon, the yearly convention for — you guessed it — Twitch, the company announced a plethora of improvements and features coming to the website thanks to their partnership with Amazon.
Twitch Prime
Twitch Prime is essentially a new premium experience on Twitch included with an Amazon Prime membership. Like Twitch Turbo, it provides an ad-free viewing experience, exclusive emotes, the ability to customize your username color, and a unique chat badge next to your name. Prime members will also be able to subscribe to one Twitch channel for free every 30 days with their membership. Best part? The streamer you're subscribing to gets paid just like any other subscription outside of the Twitch Prime membership program, which keeps things streamlined for those who make a living off of their broadcasts.
Twitch Prime members also get the added benefit of free game downloads, new character skins, and more each month for select games. While they haven't revealed all of the reward details, the month of October does include a new Hearthstone hero, a copy of Streamline, and a character skin for SMITE; which isn't a bad start. Not to mention, you get all of the benefits of an Amazon Prime membership too — including discounts on new releases sold on Amazon with free release day delivery.
Currently Twitch Prime is available in the U.S., UK, Canada, Germany, France, Italy, and Spain for $10.99 a month or $99 a year, but if you already have an Amazon Prime account, good news! It's included with your membership.
Upgraded Transcodes
Upgraded transcoding is a feature that many Twitch streamers who aren't yet partnered have been asking about for a while. For those unfamiliar with transcoding, it's essentially the system which allows you to select the quality of the video content you watch online. On Twitch, unless you're a partnered streamer, your viewers can't actually set the quality of the stream on their end — meaning that if you're streaming at a higher quality, you're alienating potential viewers who don't have the internet connection to watch the stream quality you're putting out.
Twitch announced that as of Monday, October 3, they've extended video quality options to more non-partnered streamers and will continue to do so over the next few months. By the end of this cycle, they expect to increase the transcode capacity by over 10 times the current capacity and introduce quality options to thousands of smaller streamers. Plus, they've stated the ultimate goal of giving transcoding options to everyone in the Twitch broadcasting community, and that's awesome to see.
Uploads
Since Twitch first started, it has been a community focused on live content, but now it wants to support an uploaded community as well. Uploads are a new feature that's pretty self explanatory: It allows you to upload videos to Twitch. Essentially, it's YouTube on Twitch, but the uploads section of the website is currently in beta with more improvements coming in the next few months.
As it stands today, you'll be able to notify your followers when a new video is posted by using the channel feed, as well as download old broadcasts to trim down into shorter videos. Much like YouTube, they've also included individual stats for each video so that you can monitor how they're doing and look at what works and what doesn't. It seems like a promising addition to the website, but it'll be interesting to see how it competes with YouTube Gaming in the coming months.