11 Newest Tech Items We're Obsessed With
We don't fall for hype. We know what we want. This, right here, is what we want.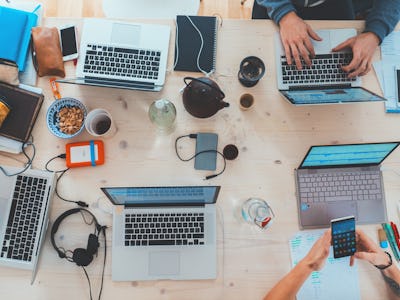 Unsplash / Marvin Meyer / Aresearchguide
We love tech. But we don't fall for the hype the tech companies create for the latest expensive gear. We know what we want. We want what we want. Here is the latest gear that we wish was currently gracing our desk, pocket, wrist, car, cell phone, and self.
In my dreams, I work in a Steampunk world where my computer is steam powered and space travel fills my vacation plans. In reality, my days are filled with Microsoft Office, Twitter, and Google Docs. Dreams need fuel, and this retro keyboard tray is the lithium crystals, or perhaps the petroleum-based liquid fuel, for mine.
Cubinote Pro Sticky Note Printer + 3 Paper Rolls
This is 80s office meets the future. Bring back the sticky note! Except not with my illegible handwriting. Type it, draw it, print it. You type on your own phone screen. No admitting you haven't written with a pen since the first grade. You can even print your cell phone photos onto sticky notes.
Hushed Private Phone Line: Lifetime Subscription
You swiped, chatted, and liked. Now it's time to exchange contact info. Do you really want to give your digits to this new Tinder 'friend' you've never met? What if he turns psycho the minute he's lured you out of the app? What if she texts something steamy while your tween is playing games on your phone? Nope. Nope. Nope. Get a number you can ignore, shut off, log out of, and that is not tied to your location. A lifetime subscription to Hushed costs less than lunch.
BULLET X Waterproof Bluetooth Earbud & Charging Dock
If we could take back every time we stepped into the shower still wearing a Bluetooth headset, there would be many more working earbuds in the world. This one might survive that fatal-to-electronics error. It has an IPX7 waterproof rating, which means it will survive a downpour or short immersion in water. They should all do this! This one also travels in its own bullet-looking charger so you can top up the power while it's in your pocket.
Because my phone can do wireless charging, I've eliminated the annoying stick-a-tiny-plug-into the butt of my phone habit — in every place but mycar. No more! This dashboard mount is a Qi charger and it's has a nifty reticulating arm so I can nav and charge at once.
The New(ish) Kindle Paperwhite
I know the new inexpensive Kindle is making the news because of it's low $89.99 price tag. But this is the one we want! It's waterproof, has 300 ppi-glare free display and a built-in light, which means you can read in any lighting situation. Tent? Boat? Airplane? Beach? Next to snoring spouse? Yes to all of that. Connect a Bluetooth headset and listen to your books, too. What a great way to teach a kid to read, right? (If you need to rationalize this purchase.)
Flagship 2019 Lenovo Legion Y530 15.6"
The computing power you can acquire for a song these days is amazing. Lenovo Legion packs some serious computing power, looks great, and will tuck away easily in your bag. A Core i7 gaming laptop that fits in your backpack is bad ass. Finding it for this price? You are bad ass.
If you listen to the cell phone carriers, it seems like you have to drop a fortune to upgrade your phone. Not so. The newest Samsung marvel? An iPhone? Oh, yeah, sure. Those are spendy. But what they won't tell you is that the OnePlus is a great phone. Fast processor? Latest Android OS? USB C? Great camera? That and much more. This phone is loaded with the latest for less than half the price of those others.
If you rely on Alexa, giver her a power up. With the Alexa show, the drop-in calling feature becomes a video call. Asking her to play music turns her into a Karaoke(ish) machine so you can sing along. She flashes your next calendar appointment, shows your photos. Alexa with a screen is one slick AI.
TicWatch Pro Bluetooth Smart Watch
Is that iWatch too sissy, white collar looking for you? But you still want all that coolness, right? Pay with your watch, track your steps, heart rate monitor on your wrist, phone notification, all the nifty. Take a look at this bad boy. Bonus! It's much cheaper than the iWatch and works with your iPhone or an Android phone so you are free to change phones when the mood strikes.
Fuse Chicken Universal | All-in-One World Travel Charger
Got travel plans? Don't settle for a bag of plugs. Bring a battery pack that works with the plugs all over the world, charges your gear when it's in your bag, and does both kinds of USB so it'll give your phone and accessories a boost simultaneously. Also? It's a Qi wireless charger so you can just set your phone down on it.