The Apple Credit Card Critics Are Missing the Real Source of Its Appeal
Middling perks might not stop the Apple Card from becoming a giant. 
by James Dennin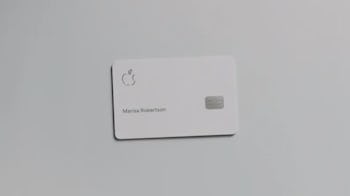 apple credit card
The breakout hit of Apple's big services announcement isn't its new blockbusters or its new gaming service: It's the Apple Card, the company's foray into, of all things, consumer lending.
It's not even particularly close. More than 15 million people watched the Apple Card's ad on YouTube already, four million more than the next most popular video out of the announcement. Apple Arcade and Apple News+, by contrast, have barely cracked a quarter million views. The Apple Card's trailer even has more views than the announcement video for the iPhone XR, which launched six months ago and outsold the XS and XS Max combined.
This all happened despite the fact that the Apple Credit Card has been widely shrugged off by credit card industry experts who are unimpressed with the perks. No sign-up bonus? No travel freebies? Middling cash back? But despite such a lackluster reception from the points hacking crowd, Apple's sleeping giant may be about to wake up.
Apple Card Could Be an Everyman Credit Card (With Perks)
One reason why the Apple Card is garnering most of the attention from the announcement is simply that it was the most novel. Apple News+ and the re-vamped Apple TV are simply new-and-improved iterations on existing products with new premium offerings, Arielle O' Shea, the personal finance expert at NerdWallet, tells Inverse.
"I'm not surprised it got so many views," she says. "Apple has a loyal following, they tend to attract millennials, and they're creating a lot of buzz among people who are traditionally not paying attention to credit card announcements."
But there's more to the Apple Card's appeal than its security features or its heft: It will likely be very easy to get. Apple didn't respond to questions about what sort of credit score you'll need to get the card, but the indicated annual percentage rage on its ads — "13.24% to 24.24% based on creditworthiness" — is so broad, Apple is likely planning on making few rejections once people start applying.
Specifically, that range's upper bound indicates that even people with "Fair" credit — which usually describes FICO scores of 669 or less — might still qualify for Apple's card. That's a bit unusual for a decent perks card. The Citi Double Cash, which is often touted as a better alternative to the Apple Card for offering 2 percent cash back on all transactions, usually requires a minimum score of around 690, according to NerdWallet. The Chase Sapphire Preferred — the more accessible downstream alternative to the Chase Sapphire Reserve — has an average required score of 736, according to The Points Guy.
"I do think there's a chance that a 650 credit score might get you an Apple Card. It'll almost certainly come with a high APR, but you might be able to get one," Matt Schulz, chief analyst at CompareCards, said in an email. "Apple likely won't have any choice but to open it up to folks with imperfect credit."
There are indeed credit cards that are significantly better for racking up free travel points, but these cards often require high levels of spending and annual fees, which also significantly raise the barrier of entry relative to what Apple's offering.
The Chase Sapphire Reserve, for example, requires a $450 annual fee, and $4,000 worth of spending in the first 90 days in order to actualize the perks. Apple's no-fee card will let users begin earning daily cash back right away, a function that, incidentally, would also let the card double as a way to access something like a cash advance. This is yet another perk that may be lost on well-off credit card points hackers, but it will certainly be attractive to people living paycheck to paycheck.
Finally, the Apple Card's titanium iteration, plus Apple's reputation as a luxury brand will give the credit card a pretty affluent feel for a credit card that, ostensibly, could be available to two thirds of Americans, based on the current credit score distribution. With credit card points inflation starting to set in, and the big-fee premium cards starting to lose their luster, the Apple Card's middling perks may prove far less of an impediment to its widespread adoption than you'd think.