Prescription Vegetables? The Potential of Insurance-Covered Healthy Food
An argument for the distribution of food prescriptions through Medicare and Medicaid.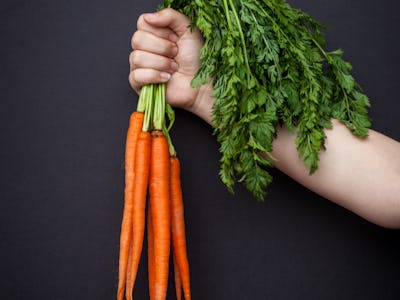 Unsplash / Heather Gill
In 2016, doctors in Flint, Michigan began to take on the American health crisis by offering children an innovative type of prescription: fruits and vegetables
Any child over the age of six months who visited the Hurley Children's Center in downtown Flint was qualified to redeem a $15 prescription that could be filled at the city's Fulton Street Farmers Market or a YMCA Veggie Van. Nutritious food, it was reasoned, is the best medicine — and if young Americans are going to grow up healthy, they need to eat healthily.
Now, a team of doctors and public health experts say that it's time for adult Americans to receive food prescriptions as well, but on a national scale. A study released Wednesday in PLOS Medicine — "Cost-effectiveness of financial incentives for improving diet and health through Medicare and Medicaid" — provides compelling evidence for the distribution of food prescriptions and subsidies via Medicare and Medicaid, the largest U.S. federal health insurance programs that together cover 1 in 3 Americans.
How the Experiment Worked
Using a nationally representative data set of US adults aged between 35 and 80 years, and a validated model, the team evaluated two scenarios: In the first, Medicare and Medicaid would cover 30 percent of the cost of purchases of only fruits and vegetables. The other model covered 30 percent of the cost of whole grains, nuts, seeds, seafood, and plant oils — in addition to fruits and vegetables.
The first incentive could prevent 1.93 million cardiovascular disease events, which could spiral into 350,000 deaths annually, say researchers. It would also save about $40 billion in healthcare costs.
The second incentive, which incorporated more healthy foods, would, in turn, save more lives. The model showed that the second scenario could prevent 3.28 million cardiovascular disease events, as well as 620,000 deaths annually driven by that disease. It also could prevent 120,000 thousand diabetes cases, and save $100 billion in healthcare costs.
Study co-author and Tufts University postdoctoral researcher Yujin Lee tells Inverse the program has real promise.
"Programs like these have not been implemented at scale"
"The fruit and vegetable program has been implemented through some nonprofit and private insurance programs, showing an increased intake of fruits and vegetables and an improvement in measurable outcomes such as [the ingestion of] glucose, cholesterol, and triglycerides," Lee says. "However, programs like these have not been implemented at scale, nor evaluated for cost-effectiveness."
Lee's research is an early exploration of what happens when the federal government incentivizes diet on a mass scale. Across nations, healthcare spending is intrinsically linked to diet-related conditions like cardiovascular diseases, cancer, and type 2 diabetes. In the United States, healthcare expenditures have tripled over 50 years while at the same time, nutritional health remains suboptimal.
The typical American diet exceeds the recommended intake levels of calories from fats and sugars and don't include the recommended amounts of vegetables, fruits, and whole grains. In turn, over 78 million U.S. adults and 12.5 million children and adolescents are obese.
It's well-established that eating healthy massively lessens the likelihood of developing diet-related conditions — which not only threaten lives but place a financial burden on the healthcare system.
"Diet-related diseases are major contributors to healthcare expenditures," Lee explains. "Our findings suggest that prescribing healthy foods could be highly cost-effective — about as cost-effective as preventative drug treatments for hypertension or high cholesterol."
Researchers found that while the individuals who use Medicare and Medicaid differ across baseline characteristics, risks, and dietary habits, both incentives ignited massive good.
"Substantial health gains"
"Implementing healthy food prescriptions within large government healthcare programs to promote healthier eating could generate substantial health gains and be highly cost-effective," the researchers write. "Our findings support the implementation and evaluation of such programs within private and public healthcare systems."
With this study points to what could happen if Medicaid and Medicare are involved, Americans will be able to soon be able to observe whether food prescriptions will help on a smaller scale. In 2018, Congress passed the Farm Bill, which includes a $25 million Produce Prescription Program. It's inclusion was inspired by the success seen in Flint.
Over the next five years, that money will go towards prescription pilot programs around the country — money that Lee feels confident will increase the consumption of healthy foods, improve health, and reduce diet-related costs.
The research should be good news for farmer's markets and veggie vans everywhere.
Partial Abstract:
Background: Economic incentives through health insurance may promote healthier behaviors. Little is known about health and economic impacts of incentivizing diet, a leading risk factor for diabetes and cardiovascular disease (CVD), through Medicare and Medicaid.
Conclusion: Economic incentives for healthier foods through Medicare and Medicaid could generate substantial health gains and be highly cost-effective.
For full abstract, see here.