Microsoft Has Enough Clean Energy to Power 'Back to the Future's DeLorean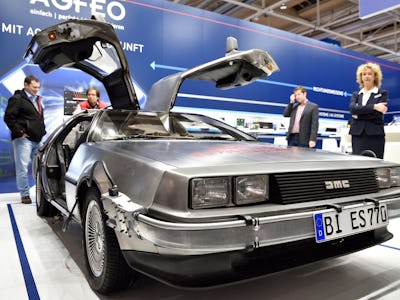 Wikimedia Commons
Microsoft reached another major milestone this week, as it added two new renewable energy installations to its roster. The announcements bring the company's global clean energy portfolio to a staggering 1.4 gigawatts — more than enough to send Marty McFly back to the 1980s in Back to the Future.
The company announced on Wednesday that it has agreed to a 15-year power purchase agreement from the North Carolina-based Wilkinson Solar Energy Center, which when completed by solar developer Invenergy will provide 74 megawatts of power. The following day, the firm announced another agreement of the same length for the Ohio-based Timber Road IV Wind Farm, which will go online later this year and provide 125 megawatts courtesy of operator EDP Renewables.
Of course, scholars of eighties cinema will remember that — when Doc Brown was looking for 1.21 gigawatts of energy in Back to the Future to enable McFly to return to the eighties in his time-traveling DeLorean — he didn't have time to consider the cleanliness of his energy. Instead, the pair devised a complicated plan that involved driving the car to a series of wires near the clock tower, when lightning was due to strike, and harnessing the energy from the bolt to power the time machine.
Microsoft is relying on no such trickery to power its operations. It's instead turning to sources like the sun and wind to keep its network of data centers running, with a planned goal of harvesting 60 percent of its energy from renewables in the early 2020s. The company has also been exploring ways of cutting its energy consumption overall, like researching gas-powered data centers that use natural gas to power fuel cells.
It's made strong progress toward this goal so far. In March 2018 it reached its goal of using 50 percent renewable energy in its data centers by 2018. The company 315-megawatt deal in Virginia was also the largest corporate solar agreement in the United States. The agreement formed part of a wider energy project that uses over 750,000 panels on 2,000 acres to provide 715,000 megawatt-hours per year.
Microsoft is not the only major tech firm working to power its entire operations from renewables. Google announced in 2017 that it had reached its goal of using 100 percent renewable energy for its operations. Apple announced in April 2018 that it had reached the same goal. Apple and Google use renewable energy certificates to cover the equivalent amount of energy used by its operations, as the grid does not separate clean and dirty energy. Microsoft dismissed this approach in 2016, adding that the whole company has been operating on 100 percent renewables since 2014 if these certificates are factored into the figure.
It may not be a bolt of lightning, but it seems Microsoft's operations are still looking to the skies for a source of energy.