White House Heroin Policy Seeks to Help Addicts
Another step closer to the end of the War on Drugs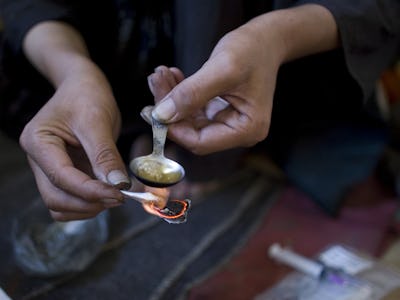 Paula Bronstein/Getty Images
Today, the White House's Office of National Drug Control Policy announced the Heroin Response Strategy, a new drug policy that focuses on treatment over punishment, The Washington Post reports. The initiative is part of the High Intensity Drug Trafficking Area program. The HRS will be implemented in the Eastern United States where the heroin problem is believed to be the country's worst.
According to the Centers for Disease Control and Prevention, heroin use has more than doubled among 18-to-25-year-olds in the past decade. In addition, 45 percent of addicts are also addicted to prescription opioid painkillers, believed to be gateway drugs to heroin. To combat the rise in heroin use, the HRS will employ 15 drug intelligence officers and 15 health policy analysts, who will collect data on overdoses and trafficking patterns.
The Heroin Response Strategy is another great step from the Obama administration, which seems to understand that drug users and street-level pushers are not criminals but victims. Throwing an addict in prison does not help him/her recover. Even coming forward as a user seeking help could have had harmful legal repercussions.
But with the HRS, reporting an overdose will not lead to punishment. In fact, reporting an overdose will be helpful to the state, which will investigate the real source of a tainted batch. That person can then enter treatment, where the problem can be better addressed. People use drugs, and the more we accept that, the safer we can make it for those in need.