SXSW 2019 Is Already a Major Hotspot for the 2020 Presidential Contenders
This year's tech conference will be a major campaign pit-stop. 
by James Dennin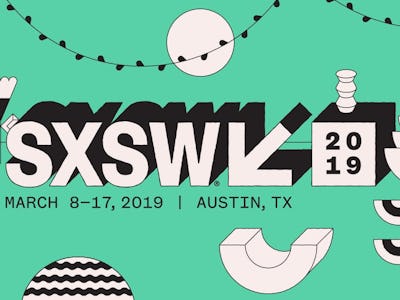 sxsw 
President Barack Obama was a huge fan of SXSW, the annual tech and advertising extravaganza held in Austin, Texas. He spoke there as a state senator in 2007, and again during the last year of his presidency. But it's otherwise not been traditionally known as a hotbed for political campaigning, though that's definitely starting to change for the 2020 presidential cycle.
At least four declared Democratic presidential candidates for 2020 will be making the trip next month, as well as Bill Weld and John Kasich, both possible candidates should the president face a challenger in the Republican primary. The talks will all take place as part of a partnership between SXSW and the Texas Tribune to produce a programming slate focused on the election.
Right now, the roster is currently missing a few notable frontrunners, including the president himself as well as Vermont Sen. Bernie Sanders and former Vice President Joe Biden, who is still thought to be a possible presidential contender. California Sen. Kamala Harris also wasn't on the initial list of speakers, though that could change. Here's the full roster, according to SXSW's event page:
Senator Amy Klobuchar with Recode co-founder and editor-at-large Kara Swisher.
Former Governor Bill Weld with WIRED contributing editor Garrett M. Graff
Senator Elizabeth Warren with Time Magazine contributor Anand Giridharadas
Former Governor John Hickenlooper with Buzzfeed News editor-in-chief Ben Smith
Former Governor John Kasich with Washington Post associate editor David Maraniss
Former U.S. Secretary of Housing and Urban Development Julián Castro with HuffPost editor in chief Lydia Polgreen
House Minority Leader Kevin McCarthy with Politico senior writer Jake Sherman and senior Washington correspondent Anna Palmer
Mayor Pete Buttigieg with host of Crooked Media's With Friends Like These, Ana Marie Cox
None of the above candidates are front-runners, but several of them are already on track to qualify for 2020 primary debates, which only require getting one percent or higher in a three national polls. Warren, Klobuchar, and Castro are already comfortably in that range, according to aggregated polling data from Real Clear Politics. Buttigieg is the least well known, and at only 37 he'd be the youngest person to ever hold the office if he's able to become elected. He is exactly the kind of candidate you'd expect to see at SXSW, which often hosts mayors to talk about the future of cities.
So what's made Austin a go-to campaign stop this year? Technology and its role in society is increasingly becoming a defining stance for candidates, in a way that it's never really been before, as David McCabe recently pointed out in Axios. On the far left, candidates like Warren and Sanders have made their antipathy for Amazon a major selling point. But even political moderates have been talking a lot about tech, ss McCabe's report notes, Klobuchar recently said "if you don't know the difference between a hack and Slack, it's time to pull off the digital highway."
With a third of the Democratic contenders already on board, it will be interesting to see if other contestants join SXSW's programming. Public perception of the technology companies that dominate SXSW has shifted considerably since the Obama presidency: Public confidence in search engines and social networking companies fell 11 percentage points between 2017 and 2018, according to a New York Times report.
Many hopefuls who set out for Austin will probably be eager to court techologists, for both their votes and to become donors. But, particularly with Warren on the docket, it would be a surprise to see 2020's candidates strike as cordial a tone with the tech entrepreneurs of Austin as the last president who made the trip.