Here's What Obama Will Talk About at SXSW
Also speaking will be first lady Michelle Obama.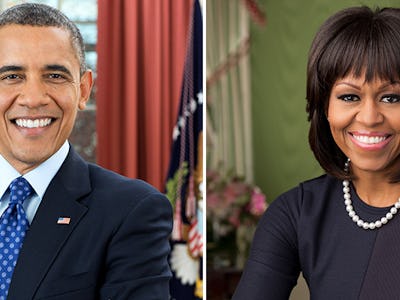 Reportedly, during a 2007 rally in Austin that attracted more than 20,000 people, then-U.S. Senator Barack Obama realized he could one day be president. Now, during the final year of his presidency, Obama will speak at Austin's South by Southwest festival on Friday, March 11, the first day of the 30th edition of the fest.
"The President will call on the audience to apply their ideas and talents to make technology work for us — especially when it comes to tackling big challenges like increasing participation in the political process and fighting climate change," announced SXSW organizers today in a news release about his appearance.
Evan Smith of The Texas Tribune will host a conversation about "civic engagement in the 21st Century before an audience of creators, early adopters and entrepreneurs who are defining the future of our connected lives," announced SXSW.
If you've got a badge for the festival — interactive, gold, or platinum — you'll be able to sit-on on Obama's opening keynote (location and time of day, along with how to stream it, have yet to be determined).
On March 16, First Lady Michelle Obama will speak about the Let Girls Learn initiative, which aims to get more girls enrolled in school.
"I can't imagine a better way to celebrate our event's 30th year than to welcome both the President and First Lady to SXSW," said SXSW co-founder Roland Swenson. "As each new generation comes up at SXSW they look for ways they can be of service, and it's important to reflect and support that message. President and Mrs. Obama's visit here will inspire attendees to that purpose."
Today's announcement might not come as a surprise, though. We learned on Monday that Obama would attend a fundraiser at the Austin Music Hall on March 11, the same day as his now-scheduled opening keynote address. While a SXSW badge is expensive, it's nothing compared to the fundraiser menu: "Tickets for the event are $250 and, if you want a picture with the President, the cost is $10,000, according to the sponsors. For $30,000 you can be a co-host," reports the Houston Chronicle.
And since this is SXSW, Obama's fundraiser will include live music — by none other than J. Cole, who shared a poster for the event on Instagram with the caption, "When the President asks…"