There's a Study-Backed Argument for Eating Alone
It's only lonely if you believe stereotypes.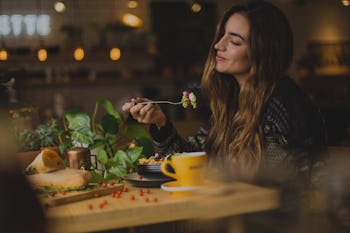 Unsplash / Pablo Merchán Montes
Taking yourself out to dinner may seem like a counterintuitive date, but in big cities, it's increasingly what's on the menu. According to the online reservation platform OpenTable, business is booming for a party for one, with solo reservations rising by 80 percent in New York City between 2014 and 2018.
What's exactly causing this surge is something that social scientists are still trying to figure out. It's been observed that over the last four decades in metropolitan areas, there's been a general rise in eating alone. More people living alone and more people are living in cities where they're in close proximity to hundreds of different culinary options. But perhaps some of these people have come to the conclusion that eating alone is actually really, really nice.
Historically, eating alone doesn't have a great reputation, sure. Studies have shown that the number one concern people have about eating alone is that they are going to look like they are lonely — more so than actually being lonely. Twentieth century French philosopher Jean Baudrillard made it into the history books with this quote, which seems to be really pushing it:
"Sadder than destitution, sadder than a beggar is the man who eats alone in public. Nothing more contradicts the laws of man or beast, for animals always do each other the honor of sharing or disputing each other's food."
During a 2010 study on eating alone, a French 24-year old said something similar when asked by a researcher why she wouldn't eat by herself in the university commons:
"I do not really like eating alone. I always had an image of people . . .You know, these people that eat alone at the restaurant at lunch, they are too sad!"
But the thing these French people need to know is that eating alone isn't by nature sad! In a 2017 study in the journal Appetite the authors point out that eating alone is "driven by social and cultural factors, not solely by an individual's preferences." This stereotype, they warn, has carried into academic literature, writing that in "academic research, eating alone is often simply treated as an alternative to social, commensal eating, and little is known about the practice of eating alone itself."
In that same study, the researchers went on to find that when it came to young adults aged 20 to 40, there was actually a link between eating alone and eating more healthy. This contradicts previous analysis on teenagers and the widowed elderly — both groups have been found to eat less fruits and vegetables when by themselves — and some studies on bachelor men, who report eating worse when they are by themselves.
The scientists in Appetite argue that the conclusions of those studies may have less to do with the act of eating alone itself, and more to do with the lifestyles attached to those groups. Teenagers need adults to remind them to be happy, and the bachelor group admitted that they thought by not living up to the "ideals" of eating well they were just living up to the "habits of a stereotypical bachelor." The elderly aren't so much lonely because they are eating alone, but because older adults are at an increased risk of being socially isolated in general.
Sam Dick of the Campaign to End Loneliness summed it up aptly to The Guardian:
"Choosing to eat alone is very different than having to eat alone," Dick said. "A moment of solitude to enjoy a solo dinner is not the same as not having someone to eat with a regular basis, which is the case for many older people."
And when people do go to eat alone, studies demonstrate that they are more mindful about what they eat and consider the actual enjoyment of eating more. In a 2006 study published in Physiology & Behavior researchers evaluated the difference between individuals who eat alone, eat alone in front of a television, eat with friends, or eat with strangers at the same table.
Researchers in the 2006 study found that when compared to eating alone, people ate 18 percent more when they were with friends, and 14 percent more when they were watching television. People who ate with strangers didn't eat more than those who ate alone, but they did say that they paid attention to their food less.
Eating alone appears to hit the sweet spot: You pay more attention to the flavor of your food, but you don't overeat. This has been confirmed in other studies as well. Overeating is often linked to mimicry, and we love to mimic other people. Some researchers have found that when people are with people who drink more water, they'll drink more water. When they're with people who eat less cookies, they eat less cookies. But why would you want less cookies?
To eat what you truly want, you have to eat alone. This goes back to one of the reasons why solo reservations in New York City are on the rise — for many, eating by oneself is a unique opportunity to try out a popular, expensive restaurant. The sort of place where you don't to think about social stress, and want to focus on your food.