2019 iPads: Apple's Likely Prices, Release Date for Its Next Product Launch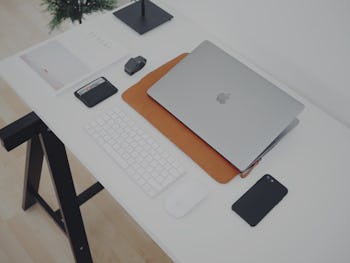 Unsplash / Oliur
Apple's first big product launch is very likely going to be iPad focused, but it might also include a blast from the past. Rumors and leaks of what the Cupertino-based company has up its sleeve to kick off the new year have began to circulate.
Two new iPads are expected to join the recently released iPad Pro that launched in October, and the 9.7-inch iPad that dropped in March of last year. But more shockingly, another rumor also alleges that Apple plans on launching a new iPod Touch for the first time in almost four years.
The tablet news should come to no surprise, Apple dominates the tablet sector in part by having so many different variants. iPad products made up about 35 percent of the global tablet market in the second fiscal quarter of 2018, according to an analysis by the International Data Corporation.
But launching a new iPad Touch when iPhones can do everything the old Touches could do and more? Now that's strange. Unless, of course, it completely reinvents it.
An Ultra-Cheap iPod Touch
Based on recent leaks, it looks like Apple's retro launch will make pricing its major selling point. This became the thinking after Apple released a beta version of its upcoming iOS 12.2 on January 29 that contained references to a budget-friendly iPod Touch.
Developer Steve Troughton-Smith spotted hints buried in the software's code that alluded to a seventh-generation iPod Touch with Touch ID or Face ID. That would mean the device would have to be unlocked using a passcode, so there'd be no need for a home button or bottom bezel. Fewer internet components could mean a cheaper price tag.
These leaks bolster claims made by Apple blog Mac Otakara on January 15 that the company was gearing up to launch a new take on the iPod.
The sixth-generation iPod touch was released in July 2015, it's available in six colors, costs $199 for 32GB of storage and $299 for 256GB. A new one could potentially look a lot more like the iPhone X or XS with a small notch to house the front-facing camera.
iPad Mini 5
Next on the list is Apple's answer to the Kindle, the iPad mini 5. It will likely come with a cellular and wifi version, according to some alleged leaked images of an early model with LTE support that were published on January 8. Much like an iPod Touch reboot, this could be low-cost as well.
In December of last year, the China Times reported that the iPad Mini 5 will hit shelves early in 2019. The article, that Inverse translated using Google Translate, said a low-cost iPad mini would be put into production by the end of 2018. That lines up with predictions made by trusted Apple analyst Ming-Chi Kuo about a new iPad mini in the works.
Apple decreased the price of its fourth-generation iPad mini back in March 2017 with the 128GB variant now priced at $399, but it hasn't received an upgrade since 2015. A new model could tout internal updates, an improved display, or even Apple Pencil 2 support. But definitely no Face ID, according to the leaks.
10-inch iPad
Finally, we may also see a slightly larger follow-up to the $329 9.7-inch iPad that launched in March 2018, and which was also leaked in iOS 12.2. Just like the iPad mini 5 leak, it's expected to come in cellular and wifi variants without Face ID.
China Times also prefaced this leak with its own claims. The rumored tablet will likely be fairly similar to its predecessor launched in March, but with potentially slimmer bezels.
Seeing as it is expected to be larger it could be marginally more expensive, come with better internals, and maybe Apple Pencil 2 support.