'Bird Box': Netflix Asks That We Not End Up in the Hospital Due to Memes
Please, just use your eyes.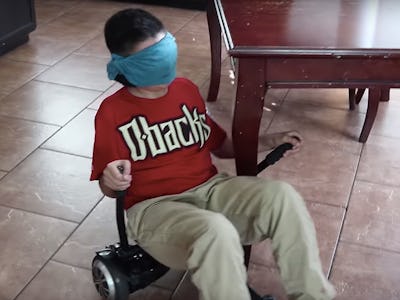 Bradford Tube
The Netflix original post-apocalyptic thriller Bird Box, which was seen by 45 million users within a week of its debut, has predictably spawned another ill-advised internet challenge, could give Tide Pods a run for their money. This time around, the teens are trying to go about a whole day while blind-folded.
If you still haven't seen it — even the U.S. Surgeon General has seen it — Bird Box stars Sandra Bullock trying to blindly save two children from a mysterious monster that drives people insane if they look at it.
While the film has garnered lukewarm reviews from critics, its audience has fixated on a scene where Bullock traverses a river with two her kids while blindfolded.
This has resulted in a wave of memes (many of them Spongebob-related) and a number of imitators.
Videos posted on Twitter and YouTube with the hashtag #BirdBoxChallenge show people blindly walking around and even driving a hover board. It's possible that a couple of the videos are nothing more than a little social media theater, but Netflix still felt like it needed to step in with an unfortunately necessary reminder: Don't face plant for a meme.
"PLEASE DO NOT HURT YOURSELVES WITH THIS BIRD BOX CHALLENGE," the company announced. "We don't know how this started, and we appreciate the love, but Boy and Girl have just one wish for 2019 and it is that you not end up in the hospital due to memes."
The tweets below — look at that baby! — explain why Netflix issued the corporate PSA.
There's also a video that took a trip down a set of stairs into the subway:
This dude snapped himself in the front seat of a car with his Louis Vuitton scarf covering his eyes. Hope he was parked:
Then there's this ten-minute YouTube video of two kids blindly driving a modded hover-board through a house:
This trio looks like they're trying to make it to school. Doubt they made it on time:
This group of friends went a whole day with blindfolds on. With the help of not-blindfolded friend they hit a drive-through restaurant and rode down the escalator at the mall. Surprisingly this video is free of wipeouts:
These two brothers tried to do the same thing…only there were a few wipeouts this time:
This lady barely made it out of her front door without almost tripping:
Videos like this could prompt other people to attempt to recreate a fake video and end up hurting themselves. Please, just use your eyes, no monsters will drive you insane if you look at them, probably.