Selfie Sticks and Self-Loathing Are Inextricable  
Apparent narcissism often comes from a desperate need for validation.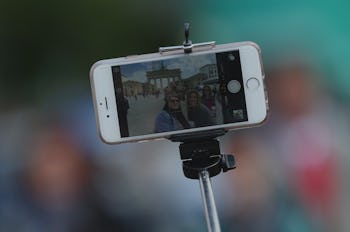 Getty
Society has come to a consensus that selfie sticks are on that list of things we wish we could disinvent, like nuclear weapons and the comfort wipe. Lives have been taken. Roller coasters hindered. So why do people persist in this self-destructive gaze into Narcissus' pixelated pool?
Well, because they might not like themselves so much. They might even hate themselves, depending on how much work they're putting into Instagram. And researchers' examination of their psychology reveals we should pity them more than hate them.
Their insecurity is so deep, as the New York Times recently noted, the American Academy of Facial Plastic and Reconstructive Surgery has said it's seeing a marked upswing in people who want plastic surgery because they're disappointed with their reflection compared to the slimmed, skin-smoothed, app-filtered Photoshop they see staring back from their iPhone.
"People forget that narcissism is not just about being an egomaniac — it's also driven by underlying insecurity," Jesse Fox, an assistant professor at Ohio State University's School of Communication who studies selfie takers told the Times. "They need to get 'likes' to get validation." Fox has found people who use social media regularly tend to score lower on measures of belonging and a meaningful existence if they're prevented from updating their profiles.
Am I saying that next time you see someone swinging their metal pole around looking for the perfect angle that they're really hurting inside and your best response to almost being decapitated is to walk over to that stranger and hug them tight, whispering that it's all going to be OK, that whoever it was can't hurt them anymore? Yes. Yes I am. Do that.