This 22-Year-Old Texan Is the Science Communicator We've Been Waiting for 
Meet the Indian-American star of Brainchild.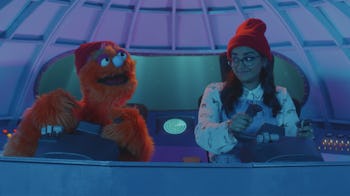 Netflix 
Listing famous science communicators who have captured kids' imaginations is an exercise in brevity. There's Bill Nye, of course, and Paul Zaloom of Beakman's World. Arguably, there's Carl Sagan, whose appeal was ageless. Notwithstanding the fictional Ms. Frizzle, these impactful individuals are a very singular type of person. People interested in science are diverse; what they see on television is not.
Sahana Srinivasan, the 22-year-old Indian-American star of the Netflix science and math show Brainchild, is changing that.
Srinivasan embraces the responsibility of being a person that kids — especially those who don't see themselves reflected in people on TV — can look up to. On Brainchild, she's funny, effervescent, and sincere. She's unlike any science communicator we've seen before.
"Our big goal for the show is to inspire people to go into that math and sciences — especially women," Srinivasan, who was born in Houston and raised in Dallas, tells Inverse. "There are not enough women of color, and women in general, pursuing STEM careers because they don't see themselves represented. It means something to see a woman of color teaching you about science and math, and I hope I can be an inspiration."
Gender stereotypes aren't the only stereotypes she hopes to dismantle. The University of Texas at Austin senior actually isn't studying math or science — she's pursuing a film degree and has spent most of her life acting and creating her own film projects — but that doesn't mean they aren't an important part of her world.
"I'm Indian, and there's the whole stereotype that Indian and Asian people only love to focus on math and sciences," Srinivasan says. "But this show is representative of STEAM, which is a branch of STEM where it involves art with science and math. I think that breaks stereotypes as well because the show doesn't revolve around my ethnicity in a stereotypical way at all."
Brainchild uses humor, zany graphics, puppetry, and blog-style shots to discuss complicated STEAM topics in an uncomplicated way. Refreshingly, the show manages to relate to kids without trying to over-relate to them with embarrassing slang.
Srinivasan makes it a point to show how STEAM applies to the everyday lives of children and teens. She explains, for example, why social media is addictive, how memories work, and what drives strong emotions.
For any teachers in the audience, Brainchild provides supplementary materials to use in the classroom.
It's clear that Srinivasan wears many hats — and it's important to her that her audience knows, too. Learning, for her, is a chance to weave multiple disciplines together.
"Something I think about a lot — especially because I am more involved in filmmaking and the creative side — is that it's a common misconception that if you're very creative then you won't be good at science and math, or if you're very good at science and math, then your creative skills will fall flat," Srinivasan says. "That's not true, especially when there are so many fields within STEM that really emphasize creative skills, whether that's being a computer programmer or sound engineer."
Until Srinavasan finds out whether Brainchild is up for a second season, she'll be working on the projects she began before filming in New York last December: creating short films and performing standup, improv, and sketch.
"My fingers are crossed for more seasons because there are so many topics we'd like to talk about," Srinivasan says. "Right now, I'm just focusing on finishing my degree and performing as much as possible."