Gamescom 2015: Running Down the Most Promising Xbox One Games
Guns, demons, and dubstep.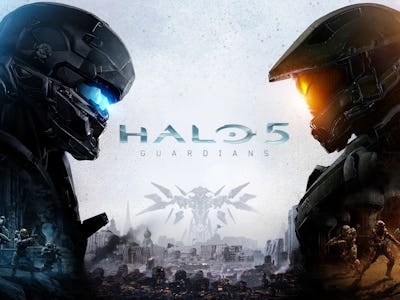 Microsoft
Someone, or something, at Microsoft thought dubstep was the choice music to play in and out of every one of their segments. It has slowly become the signature, haunting the speakers at every E3. When your ears bleed, you know you're watching Microsoft.
Thankfully, there were cool game trailers and previews that cut up the constant droning of melodic robot sex. Here are the games to pay attention to from Microsoft's 2015 Gamescom conference.
'Quantum Break' is the sci-fi sequel to 'The Wire.'
Unique reality-bending gameplay and an impressive cast (Shawn Ashmore of X-Men, Dominic Monaghan of Lord of the Rings, and Aidan Gillen and Lance Reddick of The Wire) made Quantum Break a high-note for Microsoft to kick off Gamescom. An Xbox One exclusive — a digital series starring the game's cast — is also in production.
I came up with 'Scalebound' in junior high.
When I was in like the seventh grade I came up with the idea of a dragon-riding swordsman who was a total punk. Fucking Scalebound stole my doodle notebook.
I can't wait to play it, but I'm going to be mad the entire time.
Lay waste to everything in Crackdown 3.
Crackdown was one of those cult-hits I didn't catch on to for whatever reason. But Crackdown 3 is blowing my mind, because you can blow up pretty much everything.
The entire futuristic city of Crackdown 3 is capable of being destroyed, so go nuts and forget the game is essentially Police Brutality: The Game.
'We Happy Few' will give plenty of nightmares.
Reminiscent of BioShock and looking like a Neil Gaiman novel written while he was vodka-angry, We Happy Few is a mid-sized first-person horror game with creepy atmosphere and an intriguing world I wish I could explore if I wasn't so chickenshit.
'Ark: Survival Evolved' is what 'Jurassic World' should have been.
During the conference, Microsoft called Ark a "dinosaur survival" game, ever so casually, as if the company hadn't just paired the two most awesome words that could ever be paired.
'Halo Wars 2' is a thing.
I dislike RTS games, but I tried to enjoy Halo Wars. I didn't. But other people did, and Halo Wars 2 certainly caused a ruckus at its announcement at Gamescom.
'Halo 5: Guardians' multiplayer will kill my social life.
Though we've seen plenty of Halo 5: Guardians, Microsoft gave us a good look at its robust multiplayer at Gamescom. Warzone is going to be a digital party with guns and grenades.
'Rise of the Tomb Raider' has a high body count.
I'm genuinely excited for Rise of the Tomb Raider, as I wrote last week, but I'm stunned at how comfortable with murder she has become. The biggest criticism from the 2013 Tomb Raider was how murder was treated with such a heavy heart, but it quickly goes away within an hour of playing. Rise doesn't seem to let up, further suggesting that future games will have this Lara become the Lara Croft we first knew 20 years ago.