Tesla's Latest Battery Is Saving Wind Power in South Dakota
The pack is being used with BP Wind Energy.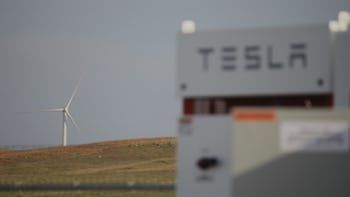 BP
Tesla's battery technology is saving power from a wind farm in South Dakota. BP Wind Energy announced this week that the company is using Tesla's batteries to store energy from the Titan 1 Wind Energy site, a 10-turbine farm built in 2009. It's the latest in a series of renewable-focused projects for Tesla, as it leverages its battery technology to make clean energy more sustainable.
The project uses a 212-kilowatt or 840 kilowatt-hour storage system to provide energy when the wind isn't blowing. Dev Sanyal, chief executive of BP's global alternative energy business, said in a statement that "as renewables form a bigger part of the energy mix, storage systems like this one will become increasingly important. This project will help us develop new business models around the integration of renewables, battery storage and other forms of energy – and it underscores our commitment to being a part of the transition to a lower-carbon future."
See more: Elon Musk Aims to Win Twitter Bet and Build Biggest Battery Ever
It's an impressive feat, but it pales in comparison to the world's largest lithium-ion battery that Tesla completed in South Australia. The project, which started off as a bet with Austrailian billionaire Mike Cannon-Brookes, offered 129 megawatt-hours of electricity as a means of solving the state's blackouts. The project was completed in just 54 days. The state government followed up on this by using Tesla batteries in 50,000 homes, creating a virtual power plant.
The BP wind farm is one of 13 sites the company operates in the United States, alongside operations in Colorado, Idaho, Indiana, Kansas, Pennsylvania and Texas. The South Dakota project was initially projected as the world's largest wind farm with a staggering capacity of over five gigawatts, but this was cut back to the 25 megawatts from the pilot project. Experts noted at the time that South Dakota's energy usage peaks at just three gigawatts, which would have meant constructing more power lines to make the project feasible.
"Insights from this project will enable BP to make better-informed decisions when evaluating and developing battery applications in the future, as well as help us to create a wind energy business that is sustainable for the long-term," Laura Folse, chief executive of BP Wind Energy, said in a statement.