Gamescom 2015: Microsoft Is Marrying the Xbox One to Windows 10
The console gets subscription-free DVR, free games, and a new 'Halo'-themed version.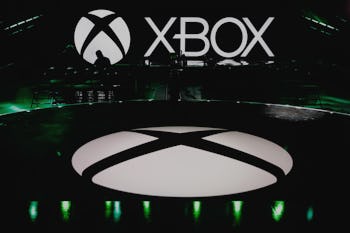 Getty Images
Microsoft kicked off Gamescom 2015 in Germany on Tuesday, showing off its fall 2015/2016 lineup of games for the Xbox One and Windows 10 OS. The bulk of the conference featured new footage not shown at this past E3, yet their strategy from E3 remained consistent: Get in on PC gaming. They've gone in like a truck through a bar wall.
With a focus on its new Windows 10 system, Microsoft touted a handful of games for cross-play — Xbox One gamers playing alongside those on PC — while the potentially complicated UXD is solved by a single Xbox app on Windows 10. Microsoft also made sure to elaborate on Xbox 360's backwards compatibility and brand-new TV DVR function. Here are some of the prominent updates to the Xbox One console's features and functions.
Subscription-free TV DVR Coming to Xbox One
Microsoft's intention to make the Xbox One the "one" center of the living (hence its name) is still at the heart of the console. Since 2013, Microsoft has downplayed watching live TV on Xbox One, but the company will offer a new subscription-free DVR functionality in 2016. Xbox owners can record TV and stream it or download directly to any Windows 10 device.
Games With Gold Enables Xbox 360 Compatability
The Games With Gold program entices players to have a Gold-level Live subscription by offering free games every month (two for Xbox 360, two for Xbox One). At Gamescom, Microsoft has expanded the program to allow backwards compatibility for all Xbox 360 games on the Xbox One console, meaning gamers can download four free games every month. There's not enough time in the world for this.
The 'Halo 5: Guardians' Limited Edition Xbox One
Wouldn't be a Microsoft conference without the company unleashing variations of its hardware. The console, tailored to resemble Spartan Locke from Halo: Nightfall, will set gamers back about $500 at retail and will come with a digital download code of Halo 5: Guardians. The console drops Oct. 20, a week before the release of Halo 5: Guardians.
Windows 10 and Xbox One Cross-Play
Several games unveiled at Gamescom will feature cross-play between players on their PC and those playing on Xbox Live via the Xbox One. Of note was Bloodstained: Ritual of the Night, which had director Koji Igarashi on stage to present (with, um, a whip).