Introducing the New Class of 10 US Politicians With Science Backgrounds
They join 11 other STEM politicians already in office.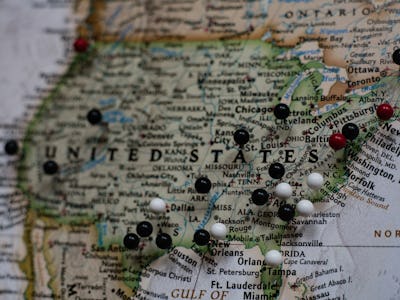 Unsplash / Joey Csunyo
Before Wednesday, the United States House and Senate only contained a handful of representatives with degrees in science, medicine, and engineering. Now, after an election season that saw more candidates with these backgrounds running than ever before, there's a fresh STEM wave rolling into Congress. Alongside the 11 politicians with science backgrounds that will retain their seats, 10 more are jumping into the fray.
The 115th Congress will include nurses, engineers, programmers, and a dentist, all of whom will officially step into their new positions in January 2019. Here is the new class of science politicians below:
Kim Schrier
Kim Schrier, M.D., flipped Washington State's 8th District for Democrats on Wednesday, becoming the district's first Democratic representative in the House (the 8th districted was created in 1983). This victory also comes with another first — in January, Schrier will become the first female doctor in Congress. A pediatrician with her own practice in her Congressional District, Schrier is one of the more than 100 women elected to join Congress in the new year.
Joe Cunningham
Joe Cunningham, a Democrat, won South Carolina's 1st Congressional District against Republican Kate Arrington. He's the first Democrat to hold this seat since 1980. Cunningham is an Eagle Scout, an attorney, and an ocean scientist. Part of his platform included his opposition to offshore drilling along South Carolina's coast — an education-backed stance that won over Republicans and Democrats alike.
Jacky Rosen
Jacky Rosen became the only non-incumbent Democrat to win a seat in a Senate in the 2018 midterms when she defeated Republican incumbent Dean Heller. Previously, she served as a U.S. Representative for Nevada's 3rd Congressional District. Rosen is a former computer programmer and is described by 314 Action, a political action committee, as a "staunch defender of science in Congress."
Kevin Hern
Kevin Hern is a Republican who won Oklahoma's 1st District seat, which was left empty after former U.S. Representative Jim Bridenstine left to become the administrator of NASA. While Hern found his success as the owner of several fast-food chains, he started his career as an aerospace engineer at Rockwell International.
Jeff Van Drew
Previous to Wednesday, Dr. Jeff Van Drew served in New Jersey's state senate and practiced dentistry for 35 years. On Wednesday he defeated Republican Seth Grossman to represent New Jersey's 2nd Congressional District. He's said that his top priority in Congress will be finding "ways to bring economic opportunities and good jobs to South Jersey."
Lauren Underwood
Lauren Underwood defeated four-term Republican incumbent Randy Hultgren on Wednesday, a victory that means Underwood will be the first black woman to represent Illinois' 14th District. Underwood is a registered nurse with a dual master's degree in public health and nursing. She has worked as a research nurse at John Hopkins University and was a senior adviser at the Department of Health and Human Services under President Barack Obama.
Sean Casten
Sean Casten is the Democratic member-elect for Illinois' 6th Congressional District. Casten holds undergraduate degrees in biochemistry and molecular biology and master's degrees in engineering management and biochemical engineering. Before running for office, Casten was best known as a clean-energy entrepreneur and ran start-up businesses designed to lower energy costs and reduce pollution by increasing overall energy efficiency. Additionally, Casten ran on a platform that included fighting for affordable health care and access to coverage.
Elaine Luria
Elaine Luria won her House seat on Wednesday, becoming the first Democrat to serve Virginia's 2nd District since 2008. Luria is a nuclear engineer and U.S. Navy veteran. In the Navy, she was deployed six times and spent 20 years operating nuclear reactors as an engineer and commander. Luria advocates for gun control, increasing the minimum wage, and expanding the Affordable Care Act.
Chrissy Houlahan
On Wednesday Democrat Chrissy Houlahan also won her race to become the representative of Pennsylvania's 6th Congressional District. Houlahan is a third-generation military veteran, former high school chemistry teacher, and a trained industrial engineer. She holds an engineering degree from Stanford University and a masters in technology and policy from MIT. She advocates for gun control, affordable health care, and quality public education.
Steve Watkins
Steve Watkins, a Republican, won the seat for Kansas' 2nd Congressional District. A 6th generation Kansan, Watkins was an Army engineer, and later, an independent contractor who worked with the Department of Defense. He holds a degree from West Point as well as master's degrees from MIT and Harvard University.