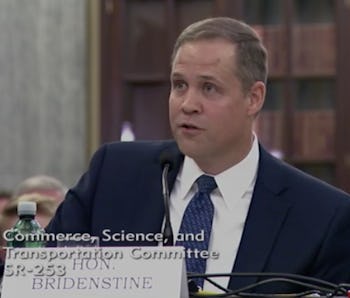 Science
NASA's Jim Bridenstine Confirmed by Senate, And Reddit Is Worried
President Donald Trump's nomination for the head of NASA, Representative Jim Bridenstine, received his confirmation from the U.S. Senate Thursday on a vote split along party lines. Fans of the agency and science, in general, are not so thrilled about a new administrator who has no science background.
Senators confirmed Representative Bridenstine by a vote of 50–to-49 Thursday as reported by Vox. President Trump picked the Republican Congressman from Oklahoma to be NASA's new administrator to officially replace Charles Bolden who stepped down from the position in January 2017. Bridenstine has been questioned for his remarks dismissing claims about climate change since he was announced as the pick for administrator position. Reddit users expressed their concerns on the space subreddit when the news broke.
"Ridiculous. This will hurt the US in so many ways, it's unfathomable," one user said. A poster let their sarcasm express how they feel by saying, "Just what we need! An anti-science climate change denier." Another Reddit user tried to stay positive and said, "I have great faith in the men and women of NASA to do great things no matter the obstacles in their path."
Bridenstine's previous remarks regarding climate change were the focus of his Senate committee hearing last November. Democratic Senator Bill Nelson, a former astronaut, grilled the Republican Congressman over past comments Bridenstine made about climate change including an instance on the House floor in 2013 where he demanded an apology from President Barack Obama on behalf of Oklahomans for dedicating more money to climate research than weather forecasting. In that same speech, he also said global temperature stopped rising 10 years prior.
With his confirmation set, Bridenstine will take control of NASA from acting administrator Robert Lightfoot. He will be in charge of the approximately $20 billion budget for the agency.
At President Trump's first State of the Union Address in January, Bridenstine invited science educator and media personality Bill Nye to the chagrin of many science enthusiasts.