New 'Show Me a Hero' Trailer Presents Mayor Oscar Isaac
The latest project from 'The Wire' mastermind premieres later this month.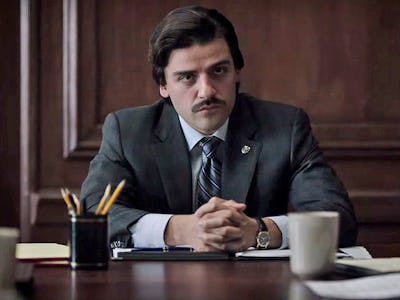 HBO
The new trailer for Show Me a Hero, the HBO miniseries from The Wire creator David Simon and former Scientologist Paul Haggis, just dropped and it looks ambitious. When a YouTube clip starts with an F. Scott Fitzgerald quote, you know a scribe is about to wring the cold sweat out of the American dream.
The series stars Oscar Isaac, who has moved up in the New York ecosystem since being Inside Llewllyn Davis and starring in A Most Violent Year. Here, he is Yonkers mayor Nicholas Wasicsko, a man determined to navigate a minefield of racial inequality, corruption, and economic exploitation. It's a true story about a predominantly white city council bringing a low income housing development into a middle class white neighborhood in the New York suburbs. One gets the sense that integrity will be involved.
This is the latest HBO project from Simon, whose post-Katrina-set series Treme ran on the network from 2010 to 2013, and before that he wrote and produced the invasion of Iraq miniseries Generation Kill. Still, the man will forever be best known for The Wire, which was the greatest TV show ever, according to your annoying friends and most scholars.
Show Me a Hero is adapted from former New York Times writer Lisa Belkin's book of the same name, and looks like it fits nicely with the kinds of intricate, panoptic stories of how bureaucracy weeds its way through public and political settings, which are Simon's bread and butter. Also noteworthy is the participation of Oscar-winner Haggis, who has made a career out of telling similarly intricate interconnected stories and their aftermath.
Let's just hope Show Me a Hero is more The Wire and less Crash.