'Game of Thrones' Season 8 Teaser Hints at a Disturbing "End Game" Twist
The finale season could be even darker than we thought.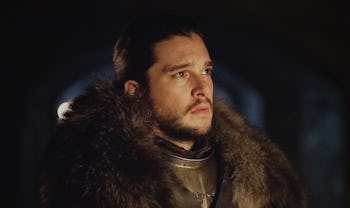 HBO
Could a new two-word teaser for Game of Thrones Season 8 hint at a dark ending for two key characters? Entertainment Weekly released a photo featuring Kit Harington's Jon Snow and Emilia Clarke's Daenerys Targaryen on Thursday to go with its cover story delving into the end of the HBO series, and it might feature a major spoiler.
In the image, Jon embraces Daenerys with the words "End Game" plastered over the King of the North. That could just be referring to the end of the series, but there's already a ton of fan speculation around how this new romance could play out in Game of Thrones Season 8. So what if those two words are actually a huge clue?
One very popular theory suggests Jon is the reincarnation of Azor Ahai and might have to kill Daenerys to save the world. According to ancient legend, during the Long Night Azor Ahai killed his wife, Nissa Nissa, and her soul combined with the sword to create Lightbringer. So what if Jon has to do the same to Daenerys?
Then again, co-executive producer Bryan Cogman's tease for the final season could hint at a change to that story.
"It's about all of these disparate characters coming together to face a common enemy, dealing with their own past, and defining the person they want to be in the face of certain death," he said. "It's an incredibly emotional, haunting, bittersweet final season and I think it honors very much what George set out to do—which is flipping this kind of story on its head."
What if "flipping" the story means Daenerys has to kill Jon instead? Or what if Jon decides to sacrifice himself rather than kill Daenerys out of love?
If one of those three possibilities — Jon or Daenerys killing the other or Jon sacrificing himself — is true, that might explain why Kit Harington cried twice during the table read for the final scripts, which he reveals to EW. However, one of those times was simply from reading the words "End of Game of Thrones* on the last page of the final script, which isn't exactly a plot spoiler.
Since he didn't spill any details about the other time he cried, it's possible that one was plot related. But the exact Season 8 lines that made Jon Snow cry will likely remain a mystery until the final episodes air in 2019.
HBO and showrunners David Benioff and Dan Weiss are doing everything they can to keep spoilers from getting out ahead of the final season. The cast even filmed fake scenes to prevent leaks and used a special device to shoot down any drones near the set. The showrunners didn't even want anyone to "take a photo of [their] boots on the ground of the set," an actor told EW.
Game of Thrones Season 8 premieres on HBO in 2019.