Here's Why You Shouldn't Trust Those 'Game of Thrones' Season 8 Leaks
HBO is going to extreme lengths to keep the final season a secret.
by Josie Rhodes Cook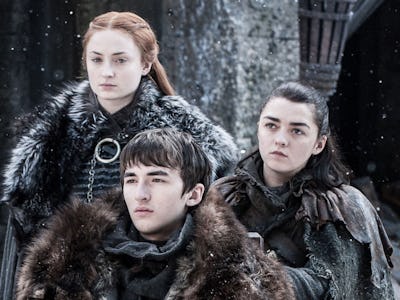 HBO
With impatient Game of Thrones fans still waiting for any hint of what's to come in Season 8, it's no surprise that every little leak' gets a ton of attention, but not so fast, GoT fans. According to series star Sophie Turner, who plays Sansa Stark on the HBO fantasy TV series, there's a very good reason you shouldn't trust any leaks or spoilers when it comes to Game of Thrones Season 8.
Vulture spoke with Turner at New York Comic Con 2018, where the Dark Phoenix star offered up a few tidbits about Season 8. In particular, she spoke about just how far HBO has gone to keep the final season of Game of Thrones secret.
"The secrecy is crazy," Turner said. "We have a whole different name for [Game of Thrones] when we're shooting it. I think this season it was like the Tree of Life or something."
Beyond a fake name, it turns out the Game of Thrones crew has been working overtime to throw would-be leakers off the scent.
"Also, we shoot fake scenes," she said. "We got into costume in Croatia because we know the paparazzi lurk around there, so we would spend like half a day doing nothing."
Acting out fake scenes is definitely an extreme length to go to to keep any upcoming Game of Thrones storylines a surprise, but wait, there's more.
The actors' names are also changed on Game of Thrones scripts the call sheets. Turner even revealed that they have a "drone killer" to shoot down any drones flying over the set. It sounds like everyone at GoT means business about stopping spoilers, no matter the lengths they have to go to.
The eighth and final season of Game of Thrones won't air until 2019, with a possible return date of April 21. Considering that Season 7 ended over a year ago, it makes sense that fans are starting to get desperate for details. But as the rumored GoT Season 8 release date draws closer, make sure to keep in mind that any leaks and spoilers you see could just be fake scenes the cast filmed to confuse us. Then again, it might be real. We'll just have to wait and see.
Game of Thrones Season 8 premieres on HBO in 2019.