George R. R. Martin Isn't Worried About the 'Game of Thrones' Leaks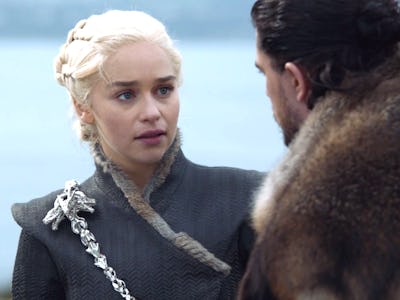 HBO
Details about Game of Thrones Season 7 are leakier than a roof at Castle Black. But, although creators David Benioff and D.B. Weiss have expressed their frustration with spoilers in the past, and HBO's currently dealing with a massive hack and two unrelated full-episode leaks, there's one guy who isn't worried: George R. R. Martin.
During a Q&A in St Petersburg, Russia, on Wednesday, Martin said he didn't share other people's "panic" about spoilers or spoiler culture, the Moscow Times reported.
"Just knowing that something is going to happen is not the same as viewing it," he said. While the Moscow Times paraphrased his comments, one fan on Reddit translated them in their entirety.
According to the fan, this is the longer version of Martin's statement:
It's sort of amusing that people would be in a big panic about the scripts being leaked before the show has come out considering that for the first entire five seasons my books were out and anyone could read my novels and find out what was going to happen. Just knowing something is going to happen is not the same as experiencing it and enjoying it.
In short, Game of Thrones fans might be worried about spoiler culture, but series creator Martin is not.
He did not say when The Winds of Winter is coming out.
Game of Thrones Season 7 is currently airing Sunday nights on HBO.