Sophie Turner Is Ridiculously Hot in First 'X-Men: Dark Phoenix' Photos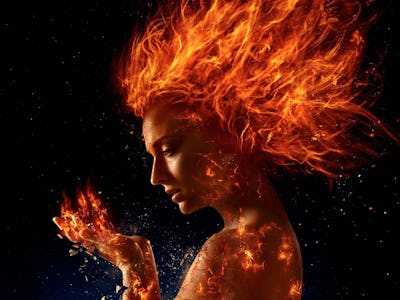 20th Century Fox, Entertainment Weekly
The Phoenix, beautiful and deadly, seems captivated by her own power in the new first-look photos published on Thursday. And while the rest of the X-Men are present throughout, Sophie Turner's Jean Grey is at the forefront of the mayhem.
The photos, published by Entertainment Weekly, give X-Men fans a first look at the next film in the saga, X-Men: Dark Phoenix.
Set almost 10 years after the events of X-Men: Apocalypse, Dark Phoenix is looking to redeem the X-Men universe of the tragedy that was X-Men: The Last Stand (2006); The Last Stand originally acted as a crude adaptation of Marvel's The Dark Phoenix Saga (1980), which the upcoming Dark Phoenix is based on, as well.
But just what is this story about? It's nice of you to ask. In the Dark Phoenix Saga, the X-Men are making their way back to Earth from an off-planet mission and get caught up in a solar flare. Jean Grey (recently portrayed by Turner in the films) sacrifices herself and is exposed to a ridiculous amount of radiation that briefly unlocks her full psychic potential. With this power, she embodies the "Phoenix," a terrifyingly deadly alter ego without much self-control. Throughout Saga, Phoenix battles the X-Men, commits genocide, and aligns herself with former enemies in order to gain more power.
As the upcoming Dark Phoenix is expected to emulate the Dark Phoenix Saga, Charles Xavier's X-Men should probably be on the lookout for a total meltdown.
Here's, presumably, the event that causes Jean's transformation above Earth.
Jessica Chastain as Lilandra, empress of the Shi'ar Empire.
Turner's Jean having a quiet moment to herself in the rain.
Fans can also look forward to the return of Jennifer Lawrence's Mystique, looking more vibrant than ever before.
Michael Fassbender (Magneto) with director Simon Kinberg.
Turner in full Phoenix mode, breaking apart under her own power.
And here's EW's first-look issue for Dark Phoenix, featuring none other than the titular mutant herself, Jean Grey.
X-Men: Dark Phoenix premieres in theaters on November 2, 2018.