Elon Musk Claims He's Deleted His Titles to Become 'Nothing' of Tesla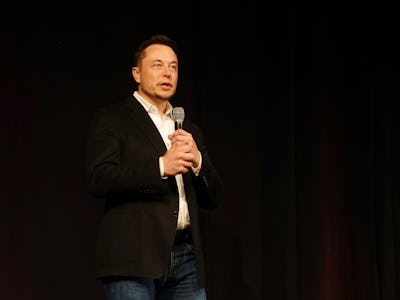 Flickr / jurvetson
Elon Musk has "deleted" all of his titles at Tesla to become "nothing," the entrepreneur claimed on Monday. The CEO of the electric car company stated that he would maintain the title of president of the company as it's a legal requirement for every firm to have one as well as a treasurer and secretary.
The apparent change comes after a settlement with the Securities and Exchange Commission, where Musk agreed to step down as chairman of the company for three years but was able to maintain his position as CEO. While the declaration initially seemed like one of Musk's Twitter jokes, Electrek noted that Tesla's investor relations website now no longer states the management titles for Musk, chief financial officer Deepak Ahuja or chief technology officer JB Straubel. However, in a follow-up post, Musk suggested he may keep his title as "product architect."
See more: Elon Musk's Settlement With SEC Is Official After Judge Approves Deal
Musk became embroiled in a dispute with the commission in August, after he declared on Twitter that he had the funding secured to take the company private at $420 per share. It later emerged that he had left a meeting with Saudi Arabia's private investment fund with "no question" that a deal could be struck. The commission described the statements as "false and misleading." The resultant settlement meant Musk paying $20 million in fines to the commission alongside his move to step down, while the company would also have to pay $20 million in fines.
Musk's Twitter jokes occasionally hold some level of seriousness. His jokes around Spaceballs led to the introduction of The Boring Company's "not-a-flamethrower" and branded hats. His declaration that he would set up a media rating company called "Pravduh" was backed up by the discovery that Musk had registered a domain with the name. It's unclear how Musk deleting his titles will change things at Tesla, but if his tweets are anything to go by, it seems he expects little effect.
The company will now have to choose a new independent chairman, as well as adding two new board members, before the end of the year.