Tesla Q3 Shareholder Letter Reveals a Truth About Model 3 Owners
Model 3 owners are movin' on up.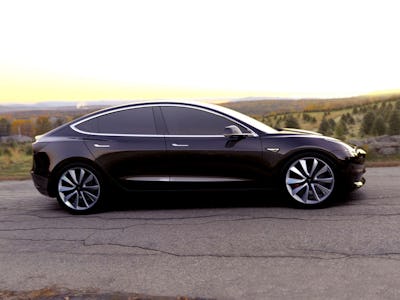 Tesla, Elon Musk's electric car company, asserted that among trade-ins for its much-hyped Model 3, more than 50 percent of them cost less than $35,000 when they were new, a statistic that reveals a truth about new Tesla owners: The majority of them are happy to pay more, or "trade-up," for a Model 3.
The detail was in a letter to shareholders released on Wednesday ahead of the company's quarterly earnings call.
"For many people it is the most expensive car they've ever bought," Musk told investment analysts on a conference call. "They are clearly demonstrating with their money that they are willing to spend extra money to get Tesla. It's mass-market premium."
Tesla made $311 million in profit in Q3, the first profitable quarter since 2016, on the strength of Model 3 sales. Musk and Tesla CFO Deepak Ahuja write in the letter to investors that "Q3 2018 was a truly historic quarter for Tesla."
In the third quarter of of 2018, Tesla delivered 56,065 Model 3 vehicles to customers, more than double the combined output of Tesla's other two vehicles in production, the Model S sedan an the Model X SUV, which saw 27,710 vehicles delivered.
The $35,000 figure has been the base price promoted by Tesla for the Model 3 since before the car debuted, but the company has yet to get it down to that price. The cheapest Model 3 costs $49,000.
"We are working hard to bring down the price of Model 3 to $35,000," reads the letter. "We have taken a step forward by recently introducing a medium range version that has a 260-mile EPA estimated range and a starting price of $46,000. Better than expected Model 3 cost reduction is allowing us to bring more affordable options to the market sooner."
In the assertion, Tesla makes a favorable comparison: It puts the cost of a trade-in vehicle against the cost of a car that doesn't yet exist — a $35,000 Model 3. It also doesn't note whether it accounts for inflation of the price of the traded-in vehicle's as-new price. However, the trade-in news does bode well for the future of the Tesla, in that its customers are willing to trade in their presumably gas-guzzling or hybrid vehicles for more expensive all-electric ones. With motors that can go a million miles, the savings make up for the cost difference.
To bring down the cost faster, Tesla confirmed that it would start producing the vehicle in China, too. But don't expect to get a China-made Model 3 anywhere but China, as Tesla says they will only be sold to "local customers." Production of the Model 3 in China will start in 2019, according to the company.
Tesla also addressed reports that people were canceling their Model 3 reservations, noting that of the 455,000 pre-orders it reported in August 2017, less than 20 percent were canceled. However, those figures don't include the 11 months that passed before Tesla stopped taking Model 3 reservations in North America this past July.
The Model 3 Comes to Europe in 2019
Tesla also announced it would bring the Model 3 to Europe next year and would start taking orders for customers in Europe and China before the year's end. (On Wednesday, Reuters reported that Tesla would use its new factory in China to start building the Model Y SUV.) The Model 3 vehicles that are delivered to European customers will be made in California and shipped.