Everything You Need to Know About the Pixel 3's Night Sight Camera Mode
It's everything Google promised.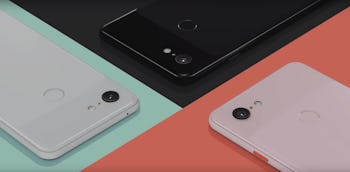 The Google Pixel 3 and 3 XL may have been leaked into oblivion ahead of their launch, but everyone's collective jaws dropped when company executives revealed Night Sight. The unreleased, low-light camera feature uses A.I. to essentially outmode the traditional cameral flash, letting you take day-time quality pictures in much darker settings.
Night Sight is slated to be rolled out sometime this fall, but the latest version of Google's camera app rolled out with a hidden version of the feature, and was leaked earlier this week by members of the software development community XDA Developers. The team at XDA was able to access the camera mode by tweaking one line of code, and their findings revealed it's everything Google promised it to be.
Pixel Night Sight: Where You'll Find It
Night Sight will be an integrated option that's part of the Pixel's camera app. Once it's released, users will be able to access it by opening the camera and sliding to the "More" menu above the shutter button. Then, just like any other feature you tap the half moon icon to get started. It'll be available on all the versions of the Pixel handsets.
Pixel Night Sight: How It'll Work
The Pixel 3 was advertised to have zero shutter lag, meaning the moment a user presses the shutter button will be the same moment a photo is captured, product manager Isaac Reynolds told DPReview. Night Sight makes use of much slower shutter speeds and HDR+ burst mode to create an enhanced, long-exposure shot.
After pressing the shutter button, users will have to hold the Pixel 3 still as it combines up to 15 frames to produce an image akin to a 5-second exposure. But don't worry about potential motion blur. Since Night Sight doesn't rely entirely on long exposure users won't have to hold the phone perfectly still.
Finally, the resulting image is touched up using machine learning algorithms and auto white balance, accentuating the dominant light sources in the picture. This could result in a slight smoothing-like effect for selfies since Night Sight essentially creates a single shot using a collage of other images and then slaps a filter on it. But it brightens up still life like no other camera before it.
Night Sight will be an invaluable tool in the smartphone photographer's pocket for bar photos, nighttime landscape shots, and any other low-light situations.