Arrowverse Crossover "Elseworlds" Adds Old School CBS 'The Flash'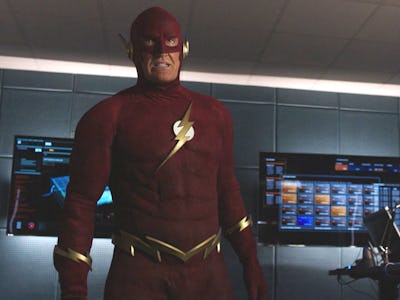 Twitter.com/@mguggenheim
Decades before Grant Gustin became the Fastest Man Alive, John Wesley Shipp played Barry Allen in the 1990 series The Flash on CBS. Now, in the upcoming Arrowverse crossover "Elseworlds," it appears Shipp will reprise his role in a team-up with today's generation of heroes.
On Monday, executive producer and "showrunner" of this year's crossover Marc Guggenheim shared on Twitter a picture of John Wesley Shipp wearing his old Flash costume from the 1990 series The Flash.
"After seven years, this just might be the coolest thing we've ever done…," Guggenheim tweeted, tagging Shipp (@JohnWesleyShipp). Shipp later responded, "something I SWORE I would never do again🤣and I'm so glad I did - Thank you @mguggenheim ❗️⚡️"
Arrow star Stephen Amell, who is becoming The Flash due to some unknown multiverse brouhaha during the crossover, also confirmed Shipp's return in another photo featuring himself, Grant Gustin (as the Green Arrow), Melissa Benoist (Supergirl), and Tyler Hoechlin (Superman) alongside John Wesley Shipp in his costume.
"No big deal. Just working with @JohnWesleyShipp for the first time. Nice of him to dress up for the occasion," Amell tweeted.
That the original CBS Flash shared some continuity with the current shows on The CW was previously hinted at in Season 2 of the new Flash. In the episode "Welcome to Earth-2," scenes from future events, alternate timelines, or clips from other shows (including Shipp's The Flash) were shown as several of the main characters traveled across worlds.
While CBS' The Flash aired for just one season on CBS, Shipp didn't stay away from superhero duty for too long. In 2014, Shipp played Henry Allen, the father of Grant Gustin's Barry Allen in the reboot/Arrow spin-off series of the same name. In Seasons 2 and 3, Shipp also played Jay Garrick, another speedster from Earth-3 who teamed up with The Flash on multiple occasions.
The upcoming "Elseworlds" crossover event will heavily explore the DC live-action multiverse, and will unite the heroes from Arrow, The Flash, and Supergirl (the heroes of Legends of Tomorrow are sitting out the big event due to logistical reasons) while also introducing Ruby Rose as the vigilante Batwoman, who is poised to star in her own series.
Besides including Shipp as The Flash, the crossover is also recycling the shooting location of the Kent family farm from Smallville. It is unknown if any other DC shows like Superboy or Lois & Clark will have any presence at all, but the doors are opening for so many possibilities.
If you're eager to check out Shipp back when he was The Flash, his series is streaming now on DC Universe and it's available on DVD from Amazon.
"Elseworlds" will begin on December 9 at 8 p.m. ET on The CW.