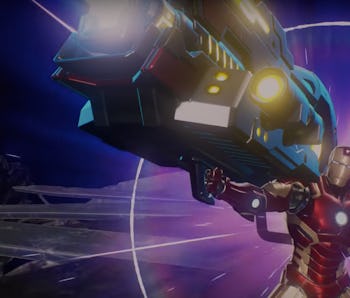 Gaming
'Avengers 4' Set Photo Hints at a Massive 'Marvel vs. Capcom' Easter Egg
YouTube.com/PlayStation
Is Iron Man taking Thanos for a ride? A new set photo from Avengers 4 gives a glimpse at a gigantic "proton cannon" that just screams "Made by Tony Stark." The cannon will especially appeal to nostalgic gamers who grew up playing the arcade classic Marvel vs. Capcom 2.
On Wednesday, Instagram account @the_geek_power obtained an up-close photo of a large prop from the set of Avengers 4, which hits theaters next year on May 3, 2019. The prop, a comically oversized cannon, resembles a large weapon you typically see in sci-fi movies. The name "proton cannon" is being thrown around since, hey, it's a superhero movie.
Truly, Iron Man is putting out all the stops to fight back against Thanos.
But anyone who played Marvel vs. Capcom 2, the crossover 2D fighter featuring Marvel superheroes fighting alongside (or against) Capcom characters from Street Fighter, Resident Evil, Darkstalkers, and more, will remember the cannon as Iron Man whipped it out as his only Hyper Move. By inputting down, down-right, right, and two quick punches, Iron Man would bust out his giant Proton Cannon that dealt serious damage, especially to opponents who were up close.
Film directors the Russo Brothers previously revealed the weapon on Twitter, in another photo that fans speculate hints at the movie's mysterious title.
That looks mighty familiar, don't it?
This isn't the first time there's been a connection to the Marvel Cinematic Universe and the Capcom games. In 1996, long before Avengers: Infinity War, Capcom adapted Marvel's The Infinity Gauntlet into a side-scrolling platformer, Marvel Super Heroes In War of the Gems. In 2017, a new game was released, Marvel vs. Capcom: Infinite, which omitted the X-Men in favor of popular characters (thanks to the films) like Captain Marvel, Black Panther, Rocket, Gamora, Thanos, and the Winter Soldier.
Will Iron Man go retro in his fight to defeat Thanos? Probably! He's got nothing left to lose at this point. After the death of Spider-Man — and a bunch of other superheroes — it seems Tony Stark will do anything.
Avengers 4 will be released in theaters on May 3, 2019.