'Halloween' (2018) Might Be the Best Slasher Horror Movie in 40 Years
Anchored by an amazing lead, the new 'Halloween' highlights the best of the genre with timely themes.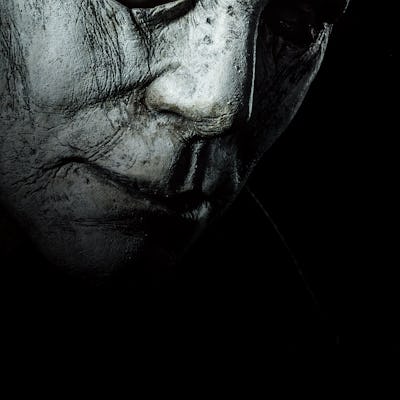 Universal Pictures
The world has changed since Michael Myers claimed his first victim forty years ago in John Carpenter's Halloween, and so has the horror movie genre. Gone are the hockey masks and hormonal teenagers, in are the low-budget thrillers (Split) and ghoulish gems (Hereditary) with pointed social commentary (Get Out). But that just makes Michael Myers' mayhem all the more exciting in 2018 — and almost unexpectedly gruesome.
After so many years and even more pale imitations, Halloween from director David Gordon Green is the icon's triumphant rebirth (with an amazing soundtrack), reinvigorating the series that cemented so many tropes we now take for granted (the final girl, death by sex, and countless more). It's also the smartest it's ever been, a film keenly aware of the mildly progressive ideas it had in 1978 that doubles down on them in 2018.
In theaters on October 19, Halloween is a sequel to the first film that introduced Michael Myers, the silent killer who terrorized the sleepy town of Haddonfield, Illinois, that left teenager Laurie Strode (Jamie Lee Curtis) the only survivor among her friends. Four decades later, Laurie's "story" — she takes offense when you call it a story — is now a legend in true crime that beckons journalists and podcasters to her triple-padlocked door. A whole generation of Strode has passed, and it's Laurie's granddaughter Allyson (Andi Matichak) who must survive when Michael Myers (James Jude Courtney and Nick Castle) again roams free. Luckily, there's Grandma Laurie, who's apparently done nothing for the past 40 years but prepare for her rematch.
With all sequels struck from canon, David Gordon Green and frequent collaborator Danny McBride — McBride and Green have collaborated on Pineapple Express, Your Highness and the HBO comedies Eastbound & Down and Vice Principals before this — wisely ignore the other nine films to zero in on Laurie and Michael Myers. There are no cults and no wedged-in back-stories. The film has an ensemble of characters you want to get to know, which is sort of pointless in a slasher flick, though Judy Greer's Karen Strode earns a fist-pumping moment of dopeness. Halloween makes it clear that Laurie Strode's vengeance, 40 years in the making, is nothing but personal.
The Strodes are the true weapon in Halloween. While Michael is the literal face of the franchise (the moment he regains his mask plays like a twisted superhero film), it's the tense relationship among the family that gives the film a pulsing heart. You buy a ticket to see Michael Myers chop up folks, but you stay in your seat to see the Strodes work out their shit in order to kill their boogeyman.
Of all the Strodes, it's the razor-sharp Curtis, who transitions between trauma survivor and pretty much The Punisher, who keeps Halloween from becoming the sort of grindhouse riot it was under Rob Zombie. This new Halloween is more than just a throwback to Carpenter's era, when the genre blurred the lines between kitsch and classicalism (as seen in films of the decade like The Exorcist, The Shining, and Alien).
Halloween siphons off some of the cultural toxicity of 2018 — especially of #MeToo and a woman's rage against personal injustice — when it revisits Laurie and Michael's feud, a relationship that now feels fated by ancient forces. In the process, it shows proves how prophetic and progressive the horror genre has occasionally been.
Halloween's exploration of trauma is powerful on its own. The seeds for this story were planted forty years ago, and the new film entered production before Brett Kavanaugh answered for his assault allegations. The themes in Halloween, in particular show how post-traumatic stress disorder can impact families for generations.
Halloween isn't an explicit call to arms, but it does grant the viewer a power fantasy, as its climax flips a classic horror movie trope: Laurie becomes the hunter and Michael the hunted. Each time Laurie pulls the trigger at Michael's undying body, you feel Laurie's palpable anger over what's been taken from her: peace.
Still, Halloween is a slasher, and a good one at that. While Green is a director of many stripes — but best known for genre-bending comedies — his vision of Michael Myers' comeback tour will satisfy old fans and newcomers, while providing fresh spins on the tropes Carpenter established. If you want dead, horny teens, you get dead, horny teens — in fun new ways! And Michael's newfound viciousness is compounded by a body count record. I lost count at around 14.
But while Carpenter — now 70 and an executive producer on this new film — had a taste for subtlety in his original, Green seems compelled to adhere to sensibilities that have been formed by a decade's worth of torture porn (Saw) and action movies (The Raid). A character in the beginning alludes to Michael Myers' outdated look, which makes the monstrosity of his return feel like a middle finger to cynics and younger audiences.
In 2015, Mortal Kombat X included Michael Myers as a playable character. Three years later, Halloween proves why he still belongs in the pantheon of monsters.
The original Halloween is an important relic in popular culture, but a relic nonetheless. The new Halloween is the heir to the throne, one that capitalizes on contemporary anxieties and makes an effective boogeyman out of them.
As Carpenter's pulse-pounding piano theme has become a ubiquitous staple at Halloween costume stores, the new Halloween is an utterly refreshing and timely take on an icon overdue for a resurrection.
Halloween hits theaters on October 19.