'Dead by Daylight' Adds Michael Myers for Halloween
Here's one for the horror fans.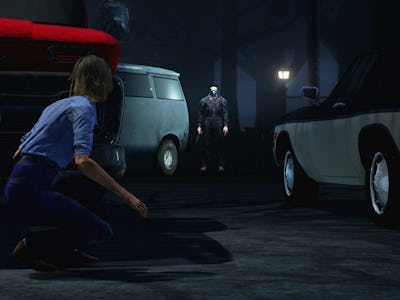 Starbreeze Studios
Dead by Daylight is adding Michael Myers as a playable character in a paid update today, just in time for the Halloween season. Yes, now you can hunt down your friends in spooky 4 vs 1 multiplayer as one of horror's most iconic murderers.
Survivors can play as Laurie Strode if that's more to your liking. Strode — in case you don't recall — is Halloween's original protagonist, portrayed by Jamie Lee Curtis. All of this plays out in a new map titled Haddonfield, which itself is based on the setting of the 1978 film. You'll be able to grab the update for $6.99 on Steam.
Each of the characters have their own series of perks, too, to really flesh things out. Michael Myers ability, "Evil Within", is split into two phases. At first, he'll move slowly and is substantially weaker, but will be able to easily detect hiding victims. To enter phase two, he has to gaze at victims to fill a gauge. Once that's done, he's considerably more powerful but won't be able to detect survivors as easily.
Strode's perks keep her in line with the original Halloween canon, casting her as Myers's obsession. Her perk, "Sole Survivor," increases her odds of surviving as other Survivors fall to Myers, but at the same time increases her chances of becoming an obsession. To balance that out a bit, her second perk, "Decisive Strike" gives Strode the chance to automatically escape from the Killer's grip once per round.
If you're not familiar with Dead by Daylight, it's a multiplayer survival horror game that pits one "Killer" player against up to four Survivors. Survivors must escape the Killing Ground before being caught by the Killer.
Adding a Halloween map is the perfect treat for fans of the game. The game's survivor vs. hunter mechanic fits the Halloween series perfectly — what's more exciting than being hunted down by expert killer Michael Myers?