Tesla's New Powerpack Project Could Bring Big Energy Savings to Colorado
Elon Musk's big batteries are making big progress.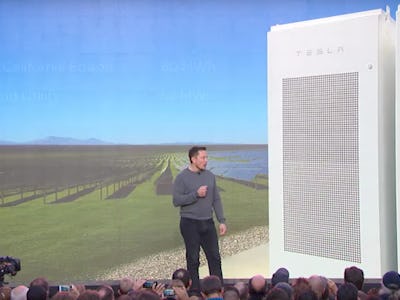 Tesla
Tesla is bringing its Powerpack energy storage system to Colorado, and it could mean big savings for the community. Energy firm United Power announced last week that it's nearing completion of a project in Weld County that will smooth out fluctuations in energy prices by providing a continuous source of power.
The project, CBS Denver reports, uses 80 Powerpacks to offer four megawatts of storage, enough to power 700 homes for four hours. That's a far cry from the South Australian behemoth, which offers 100 megawatts and powers 30,000 homes, but the intention is to only use the Colorado facility during peak hours to save both members and United Power itself around $1 million per year on energy costs. In this sense, it serves a similar purpose to South Australia's "virtual power plant" that networks 50,000 homes to bring energy prices down by around 30 percent.
See more: Tesla Powerpack's Incredible Speed is Enabling an Off-Grid Science Park
Jerry Marizza, new business director for United Power, told the publication that going with Tesla was an easy choice because they are "kind of battle-tested. They've been operating cars and doing things with batteries for a long time. There's a bit of a known quantity to the Tesla battery." Marizza also states that it lays the groundwork for switching to renewables, as "we need to start to develop storage for renewable energy and this is really the first step in doing that stuff."
Tesla has been working to bring renewables to more homes on all fronts. On the consumer side, it's started rolling out the solar roof that blends into the tiles, alongside personal Powerwalls for the home. Tesla has also explored projects in areas like Samoa, which has a target of 100 percent renewables by 2025, and an island in American Samoa that was using diesel generators prior to the shift.
As for where the Colorado project will lead next, Marizza notes that "everybody is watching, there will be a lot of eyeballs on this project and see how successful we are with it and I'm sure it will spur some other activity in this state."